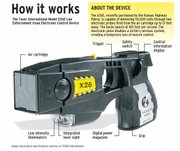 Related document

Douglas County Sheriff's Office: Electro-Muscular Disruption (Taser) Policy ( .PDF )
The Lawrence Police Department wants to start a pilot project that could lead to all patrol officers carrying Tasers, a gun-like device that delivers an electric charge.
Project supporters said using Tasers could make it less likely that police officers will have to brandish their firearms.
"In some cases, I think it will allow officers to avoid the use of deadly force," said Scott Miller, a City Hall attorney who has been researching the issue. "That won't be the case in all circumstances because you can't ask a police officer to confront someone who is shooting at them with a firearm to confront that person with a Taser.
"But the research I've seen shows there can be some real positive effects from the deployment of Tasers."
Lawrence police officers want to find out. Police spokesman Sgt. Paul Fellers said the test project would equip three officers per shift with Tasers. In total, the department wants to buy 10 Tasers at a price of about $900 apiece.
Fellers declined to provide many details about whether there were specific incidents that had led to the request, or what scenarios would prompt the use of a Taser. Instead, Fellers said the department was waiting to answer those types of questions until after they had given a presentation to city commissioners.
City commissioners are scheduled to discuss the issue at their weekly meeting Tuesday evening.
A lack of information, though, is the chief concern from Laura Routh, a Lawrence resident who has warned commissioners to proceed cautiously with the department's request.
"The Police Department has a very shoddy record of providing open access to information, in my opinion," said Routh, who has for several years lobbied for the creation of a police oversight board.
Routh said she was wary of whether the Police Department would readily make available records showing how often the weapons were used.
Miller said he wasn't sure what the city's policy would be on compiling and posting reports related to the usage of Tasers. A proposed Taser policy that has been drafted doesn't specifically address the public reporting issue, although it does say officers must immediately report the use of the Taser to their supervisors.
Other provisions in the policy include:
l The weapon will be carried in a holster on the side of the body opposite the officer's handgun.
l Use of the weapon is forbidden unless it is necessary to prevent harm to an officer or another person or to make "a lawful arrest."
l Use on a handcuffed prisoner is forbidden unless the prisoner is actively resisting detention or trying to escape and poses an immediate threat to harm an officer or another person.
Miller said he believes the city's proposed policy takes a conservative approach to the use of Tasers. He said courts in some states have ruled that it is permissible for law enforcement to use the Tasers on people who aren't fighting with police but rather are refusing to obey a police command. Kansas courts, however, have not yet taken up that issue.
Out of an "abundance of caution," Miller said he's suggesting the city restrict the use of Tasers on people who are actively resisting arrest, or to situations where the use of deadly force already is authorized.
Miller is recommending approval of the pilot project, but is warning commissioners that there are risks.
"The use of Tasers isn't without controversy," Miller said.
Amnesty International has called for a moratorium on the use of Tasers, unless it is clear that it is a situation requiring the use of deadly force.
Some chapters of the American Civil Liberties Union also have called for a moratorium. But Phil Minkin, president of the Douglas County Chapter, said the local organization hasn't been able to reach a consensus.
"There are good arguments made on both sides," Minkin said.
In its call for a moratorium, Amnesty International cited statistics showing that 150 people since 2001 have died after being struck by Tasers.
"In some cases, Amnesty International believes the use of Tasers has amounted to cruel, inhuman or degrading treatment and torture," the organization wrote.
Supporters of Tasers, though, have said many of those deaths can be attributed to factors other than the Taser. Miller said courts generally have upheld the ability of police forces to use the devices, but said the city may very well face litigation if the city has a Taser incident with a negative outcome.
Copyright 2018 The Lawrence Journal-World. All rights reserved. This material may not be published, broadcast, rewritten or redistributed. We strive to uphold our values for every story published.