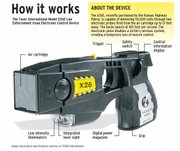 Related document

Douglas County Sheriff's Office: Electro-Muscular Disruption (Taser) Policy ( .PDF )
Many folks on the street understand what a Taser is.
At least they understand it well enough to know that they don't want to receive a jolt from the weapon.
Lt. Kari Wempe, a spokeswoman with the Douglas County Sheriff's Department, said the mere presence of the device often is enough to stop a suspect from resisting arrest.
"Once they're told of the Taser, it is pretty immediate that they start complying," Wempe said.
That's one of the prime pieces of information that the Douglas County Sheriff's Department has learned in the nearly two years that the department has equipped officers with Tasers.
But on Friday, the department refused to release one key piece of information about its Taser program: how many times the devices have been used on suspects.
Wempe said it wasn't the department's policy to compile a public report on that information, although each incident sparks a written report to Sheriff's Department leaders.
In 2006, the Sheriff's Department purchased 26 Tasers for use by patrol officers, courtroom security, jail security and warrant officers.
"We obviously don't want to use our weapon, and this is another good tool that our officers have," Wempe said. "It gives them another opportunity to defuse a situation without having to use lethal means."
In addition to Douglas County, the Kansas Highway Patrol, and sheriff's departments in Jefferson, Shawnee and Johnson counties use the devices.
The Sheriff's Department has a written policy on the use of the device. It allows the device to be used when a subject is actively or aggressively resisting a law enforcement officer. But the policy also spells out several situations when Tasers generally should not be used. Those include when the subject is operating a motor vehicle, holding a firearm, handcuffed or is either extremely old or young.
The policy states the device should never be used to lead or prod a subject, to awaken an intoxicated or unconscious subject, or on a person who is noticeably pregnant, unless deadly force is the only other option.
Sheriff's deputies receive annual training with the device, and are shocked by the weapon to gain a sense of perspective about the device.
"They're trained on a yearly basis, and that promotes good judgment by our officers," Wempe said.
Copyright 2018 The Lawrence Journal-World. All rights reserved. This material may not be published, broadcast, rewritten or redistributed. We strive to uphold our values for every story published.