Photo Gallery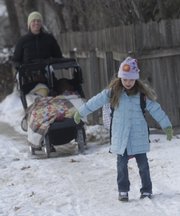 Cold snap
Arctic air, Jack Frost, wintry mix. Whatever you want to call it - it's cold.
Unless you plan to head south, there's no escaping the bone-chilling winds and freezing temperatures. So here are some tips to keep your life running more smoothly the next few weeks.
In your home
As temperatures drop, the gas bill goes up. So set your thermostat at about 68 degrees during the day and 55 degrees at night.
Increase humidity. A well-humidified house at 68 degrees is as comfortable as a dry house at 75 degrees.
Insulate your attic with at least six inches of insulation.
Install glass storm doors.
Install weather-stripping along cracks at windows and doors.
Keep radiator surfaces and filters clean.
Curt Floerchinger, with Aquila, said his company can work out a payment plan if you're having trouble with your bill.
Play it safe
Heating is the second leading cause of residential fires, according to the U.S. Fire Administration. So be careful.
Space heaters need, well, space. Keep combustibles at least three feet from each heater.
When buying a space heater, look for one that automatically shuts off the power if the appliance falls over.
Carefully follow manufacturers' installation and maintenance instructions.
For wood stove fuel, use only seasoned wood. No green wood, artificial logs or trash.
Don't let them freeze
Lawrence utilities program manager Jeannette Klamm offered these suggestions:
Unplug hoses and let them drain. Otherwise they could freeze and crack water pipes.
Open cupboards under your sinks to let warmer air circulate around pipes.
That's especially important for sinks on outside walls or walls that get hit with northerly winds.
Keep your thermostat on.
Shut off the water at the master valve if leaving your house for a long period of time.
If your pipes freeze, call a plumber. The city can't help at that point.
Brrraving the cold outside
Rob Senecal, a mail carrier, knows firsthand that Kansas winters can be brutal.
"The wind is what makes it really bad," he said. "I find wearing a couple pair of extra socks still doesn't help. : Our hands are cold because the gloves you have to wear are so thin to sort the mail."
Karen Loudon, physical therapist at Kansas University's Watkins Health Center, says nutrition and safety are important if you're exercising or working outdoors.
Stay hydrated. Layer clothes to avoid hypothermia. The first - most important - layer should be synthetic or polypropene to transfer sweat away from the body.
Cold weather can trigger asthma attacks, so check with your doctor before exercising outside.
Know the wind chill. If it's 20 below, stay inside.
Getting around
Check the tire pressure in your vehicles. Tires lose air in the cold, said Bob Holladay with Bob's Auto Maintenance, 640 N. Second St.
Make sure you have windshield washer fluid, antifreeze and a good battery.
Copyright 2018 The Lawrence Journal-World. All rights reserved. This material may not be published, broadcast, rewritten or redistributed. We strive to uphold our values for every story published.