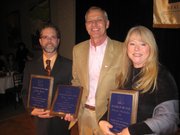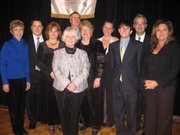 Thomas Howe says that Lawrence-area Realtors have plenty to look forward to in 2008, even beyond interest rates at three-year lows, residential prices holding steady and plenty of inventory sure to be available heading into the spring market:
¢ "Smart" lockboxes at listed homes, offering higher security and providing real-time use information.
¢ A Multiple Listing Service capable of providing customized and especially detailed market reports.
¢ And a newly refurbished, remodeled and expanded headquarters building, turning a former one-room schoolhouse into an information center catering to continuing-education events for agents.
"We've loaded our toolbox," said Howe, of Reece & Nichols Acres Realty and 2008 president for the Lawrence Board of Realtors. "Now we get to use our tools."
More than 200 members and guests of the Lawrence Board of Realtors gathered Friday night at Maceli's to review 2007, look ahead to this year and honor professionals deemed especially worthy of recognition. Among them:
¢ 2007 Salesperson of the Year: Tom Harper, Stephens Real Estate.
¢ 2007 Realtor of the Year: Deborah McMullen, McGrew Real Estate.
¢ Distinguished Service Award: Gary Nuzum, president and managing broker of McGrew Real Estate.
Copyright 2018 The Lawrence Journal-World. All rights reserved. This material may not be published, broadcast, rewritten or redistributed. We strive to uphold our values for every story published.