Photo Gallery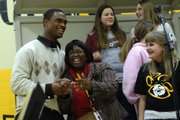 Stuckey speaks at MLK, Jr. celebration
Martin Luther King Jr. Day
Even when the odds are against you, you have to keep fighting for your dream.
That's the message a Kansas University football player had for South Junior High School students Friday.
As a young boy, Darrell Stuckey had been told his dreams were impossible.
"I was told I'd never make it from where I came from," said Stuckey, a sophomore safety.
He stood, admittedly emotional, before students at their annual Martin Luther King Jr. assembly and gave an inspirational speech.
Though his football team's accomplishments last season, including an Orange Bowl win this month, are inspirational, his focus during the speech wasn't on football.
"We're here to talk about a great man," Stuckey said.
To the students, Stuckey referred to Martin Luther King Jr. as just Martin, to emphasize that the doctor was once a student like them.
"We tend to think of him as Dr. King, that we'd think he's a legend, that you can't do the things that he's done, (but) anybody in here can do anything he's done," he said.
Stuckey is proof that hard work and perseverance pay off. He shared his personal story about being raised by a single mother in Kansas City, Kan. Reading from a letter he wrote to his father as a child, it was clear that forgiveness was necessary for him to overcome his circumstances.
"I have every excuse not to be here today," he said. "So when I'm asked 'what does Martin Luther King Jr.'s dream mean to me?' I smile and I say that nothing is impossible."
His words were well received by students who gave him a standing ovation.
"That was the best assembly this year," said seventh-grader Drew Lewis.
Copyright 2018 The Lawrence Journal-World. All rights reserved. This material may not be published, broadcast, rewritten or redistributed. We strive to uphold our values for every story published.