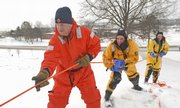 It looked like a Polar Bear Club practice session as Douglas County fire and rescue workers braved freezing temperatures and frigid waters Friday as part of their annual water rescue training.
"It kind of freaks you out at first," said Capt. Sandy Herd, laughing after she pulled one of her fellow rescuers from the water. The 11-year paramedic laughs at the fact that, "no matter how well you're protected, you're going into a deep black hole, and it's cold."
Dressed in waterproof suits and protective gear, Lawrence-Douglas County Fire & Medical crews took turns playing victim and rescuer. The one constant: Everybody had to take a dip in the bitter cold of a pond on Kansas University's West Campus. The temperature outside the water was 18 degrees.
"It's very important," said Division Chief Joe Hoelscher, "because this replicates real-life conditions."
Hoelscher explained the planning and procedures that go into a water rescue with ease - making it one of those "easier said than done" scenarios.
"They'll crawl out onto the ice," he said. "They'll enter the broken ice and water, come from behind the victim, secure them to the line, and then a shore team will pull the two to safety."
The hardest parts of the rescue, Hoelscher said, are locating the victim, determining an action plan and "going out to get them, hopefully within the time frame that the victim still has to survive."
Rescue workers must combine fast thinking with faster action as a victim's body begins to react to the water's low temperature. Hoelscher said the loss of body heat can quickly lead to hypothermia, making every second a victim is in the water crucial.
Despite the freezing temperatures and frozen workspace, Herd and her partner seemed to enjoy taking a winter plunge.
"We know, of course, in a real situation there's going to be a lot of stress and tension," she said. "But today it was fun."
Copyright 2018 The Lawrence Journal-World. All rights reserved. This material may not be published, broadcast, rewritten or redistributed. We strive to uphold our values for every story published.