Photo Gallery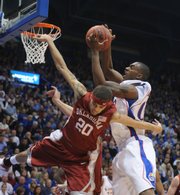 KU vs. Oklahoma
As minds go, Bill Self's is about as quick as Mario Chalmers' first step when the guard pops into a passing lane. Self's always quick with a one-liner and is even quick to check his swing when he thinks the quip that popped into his head might come back to haunt him. He's quick to ask for a stranger's name, slow to forget it.
When there is a break in the action, he's not one of those coaches who burns half the timeout huddling with his assistants. He's on it instantly, never at a loss for words, forever convinced he'll choose the right ones.
That's why his initial reaction was so shocking when he finally was asked if any of his players talk about finishing the regular season undefeated. He was asked the question after Kansas destroyed Oklahoma, 85-55, in front of a jacked Allen Fieldhouse crowd Monday night.
"Uh-uh," Self answered calmly. "No."
Huh? Where was that look he gets when an unjust foul has been called, the expression that makes it seem as if he chugged a quart of prune juice? Where was the up-tick in volume, the sarcastic tone? One thousand one, one thousand two ...
The question had taken root.
"No!" Self revved it up. "God no! We've still got seven road games left and 14 total. We're not into that. Hey, let's just get better. If we're fortunate enough to play great for the next six weeks, we'll talk about it, but we're not even going to go there."
Oklahoma coach Jeff Capel didn't go there because he wasn't asked to, but he did have mighty strong words in praise of Kansas, the nation's third-ranked team. Capel's team lost to No. 2 Memphis, 63-53, Nov. 15.
"I think Kansas is better," Capel said. "They are the best team that we've played, and we have played some really good teams. They are so balanced. They shoot better than Memphis. They are bigger. They are probably equally as good in transition. They pass the ball better. I don't think it is close that they are the best team in the country."
No. 1 North Carolina, which went on a 25-point run on the way to a 43-13 first-half lead Saturday against North Carolina State, belongs in the conversation. Such arguments are fun to engage in, but mean little in January.
KU could lose a game or two in the Big 12, but conceit won't be the cause. An experienced team is a mature team, and a mature team knows conceit plus complacency equals disaster.
Kansas won its first two Big 12 games by an average margin of 25.5. A Saturday trip to Columbia, Mo., is up next.
"We won't be overconfident going to Columbia, I'll tell you that," Self said. "Missouri got everybody's attention in the league the way they handled Texas in the second half and dominated Texas. We just need to try to get better ever day because there is still a lot of room for improvement, a lot of room."
He's been saying that all year, and he has been right. Why doubt him now?
Likewise, Darnell Jackson has been saying he can improve. He keeps raising the bar. Jackson said it again after a 17-point, eight-rebound effort against Oklahoma. Don't doubt him. He also said he can play harder. Seeing that will be believing it. The guy is as active as a mosquito, a 6-foot-8, 250-pound mosquito.
Copyright 2018 The Lawrence Journal-World. All rights reserved. This material may not be published, broadcast, rewritten or redistributed. We strive to uphold our values for every story published.