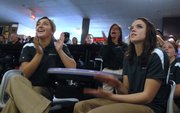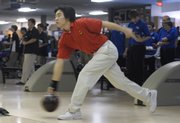 The Free State and Lawrence High boys and girls bowling teams should have been familiar with the venue for their tournament on Saturday. After all, both teams practice at Royal Crest Lanes every day.
Tackling the lanes with nobody watching is one thing. Having a room full of people cheering you on is another.
"We're not used to this atmosphere and all these teams," Free State bowler Josh Herschell said of the 10-team event at the Free State Invitational. "I get pretty nervous actually at the beginning. I think a lot of kids did, but then we overcame the nerves, and we bowled pretty well."
The Firebirds bowled so well, they earned the top seed for a format known as Baker bowling, a match-play competition that followed a best three-out-of-five format. Each bowler bowls two frames per game, with the winning team advancing to the next round.
Free State won that, too.
"The top four boys that we have are all capable of averaging 200, and that's big," Firebirds coach Anita Carlson said. "I'm proud of them. They did a good job."
Junior Evan Taylor paced the Firebirds with a three-game score of 649, which included a personal-best of 255 in the second game. He took a perfect score into the eighth frame of that one, bowling seven consecutive strikes to start.
Herschell had the second best score for Free State with a 600. Rob Wagner, who finished third at state last year, bowled a 580 series. As a team, they knocked down 3,003 pins.
The LHS boys, who were eliminated early in the Baker format, had the second best score behind FSHS at 2,979.
Tanner Kilmer led the Lions with a 651 series and a high game of 227. Ben Wyatt and Jerry Wang each broke the 600 mark as well, a goal Wang said he was hoping to accomplish.
"We have a good pairing," Wang said of his team's three seniors and three sophomores. "It's just a great match."
For the girls, LHS advanced to the title match and finished second to K.C. Sumner.
Tiffany Demaline's 559 series led the Lions. Demaline, like Free State's Taylor, took a perfect score into the eighth frame of her second game before finishing with a 234. Jessica Wyatt bowled a 519 and Becca Stack finished with a 511.
"They have a lot of motivation as a team," first-year LHS coach Brandi Perry said. "They don't worry so much about the individual person, they worry more about their team."
The Free State girls also put on a good showing. The Firebirds lost in the second round of the playoff to Sumner.
Junior Lanae Spencer had the best series on her team with a 574. She also bowled a high game of 210. Michelle Schieffer bowled a 501. Gretel Briand was the only other Firebird to break the 200 barrier in a game with a 203, and she had a series of 486. FSHS finished with the fourth-best team score overall, one spot behind LHS.
Copyright 2018 The Lawrence Journal-World. All rights reserved. This material may not be published, broadcast, rewritten or redistributed. We strive to uphold our values for every story published.