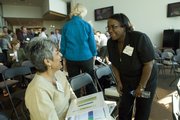 What's known as "the pipeline" is now 25 years old.
Leadership Lawrence, the Lawrence Chamber of Commerce program meant to inspire and develop young leaders in the community, is in the middle of serving its 25th class.
"It's vital to a community to have something structured," said Larry McElwain, a Leadership Lawrence trustee, former chairman and member of the Class of 1984. "You don't wait on leaders to emerge. You develop them and push them out into the community."
The program exposes class members to education, government, economic development, business, health and human services in an attempt to give them a glimpse into the inner workings of Lawrence.
"I think we're all surprised about how much we don't know about our community," said Sue Hack, the program's director since 2006.
Hack, who is also Lawrence's mayor, was in the Class of 2000. She remembers going into her meetings thinking she knew so much about Lawrence after living here for 30 years and teaching at all four junior high schools.
"About five seconds into the first class I realized that was not the case," she said. "That was probably the most exciting part."
She learned more about the arts in Lawrence and the health and human services agencies, which are still staples of the Leadership Lawrence curriculum.
Many of the more than 450 alumni have gone on to serve on nonprofit boards and work to make other differences in the community.
About 30 class members are chosen each year. They needn't have political aspirations.
"We want to build long leadership skills and just a desire to serve the community," Hack said.
Working with youths in the community has become an important part of Leadership Lawrence, as it has partnered recently with the Kansas Health Foundation. The group also has enlisted a class of Lawrence youth leaders, known as the Peer Involvement Encouraging Community Involvement, or PIECE project.
Leadership Lawrence members take advantage of their monthly meetings to desire and implement youth projects.
As for memorable classes, it always seems to be a hit when Leadership Lawrence visits students in the Van Go Mobile Arts program. Van Go, a nonprofit organization, has been serving at-risk Douglas County youths for more than a decade by providing arts-based employment.
"That's a real eye-opener," Hack said.
This year's class will graduate in April, when the chamber plans to celebrate the program's 25 years.
In the early 1980s, several community leaders, including the late Don Volker, pushed to establish the program in Lawrence.
"There's a lot of people who are working to make this ship move forward for the next 25 years," Hack said.
And as the director, she would like to see class members continue to come from diverse backgrounds.
"My vision is to continue to recruit and select individuals who are willing to commit the time and the talent to the sustainability of this community," Hack said.
Copyright 2018 The Lawrence Journal-World. All rights reserved. This material may not be published, broadcast, rewritten or redistributed. We strive to uphold our values for every story published.