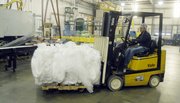 For the PackerWare division of Berry Plastics, it's the little steps that produce the big results when it comes to being green.
Take, for instance, those white plastic strings that come wrapped around cardboard boxes. Those are recycled. So are cans, light bulbs, batteries and wood pallets.
The plastics plant in Lawrence has recycled so much that its contributions to local landfills decreased from 800 tons to about 200 tons in less than five years. With the drop in waste comes a lower trash bill.
"It was pretty simple really. We saw almost 10 years ago that what we were throwing away just wasn't environmentally friendly," said George "Bear" Eoannou, who is the molding manager for the company. "I've been in plastics for 30 years. I know how long it takes to break down in the landfill."
Berry Plastics is one of the first companies mentioned when the Lawrence Chamber of Commerce talks about its new focus on going green.
This year, the chamber's green efforts will have a two-pronged approach: a look at what can be done to attract green-minded companies and education for local companies on how to become more green-conscious.
"We want to be on the cutting edge in thinking of the future and what that means to the community," said Beth Johnson, who is the chamber's vice president of economic development.
From inside out, companies can meet the "green" image in a number of ways. It could come from constructing a building that is given Leadership in Energy and Environmental Design designation. The LEED stamp of approval is a national standard that comes in four tiers.
Or, the "green" label could come from what the company produces, such as solar panels, wind turbines and organic food. And, as in the case of Berry Plastics, it could be earned by instituting environmentally friendly practices.
Already the chamber has formed a committee that is looking at how to move forward on green initiatives.
Sarah Hill-Nelson, owner-operator of the Bowersock Mills and Power Company, said that the community has an opportunity to expand on its reputation as a forward-thinking town.
It could help that Lawrence is in a state ripe for renewable energy development and home to Greensburg, the tornado-stricken town that will rebuild using environmentally friendly practices.
"I think we are coming to grips with who Lawrence is and what we have to offer, what we are and what we have been," Hill-Nelson said.
Lawrence will have examples as close by as Kansas City to follow. In November, the Greater Kansas City Chamber of Commerce released its Climate Protection Partnership, which urges businesses to reduce greenhouse gas emissions.
Hill-Nelson said there are other ideas floating around Lawrence. Among them are recognizing environmentally friendly businesses with a green logo and building tool kits for local businesses on how and why to go green.
Chamber President and CEO Lavern Squier said that one of the initiatives is to find ways to recruit green businesses that will in turn spur more to come and others to follow in their ways.
"We want to get the word out that the community is interested in having these types of companies," Squier said.
Being green can also save some green - green dollars that is - making it a good business practice all the way around.
"You can see concrete examples of things companies did that were good for the bottom line," Hill-Nelson said.
Copyright 2018 The Lawrence Journal-World. All rights reserved. This material may not be published, broadcast, rewritten or redistributed. We strive to uphold our values for every story published.