Photo Gallery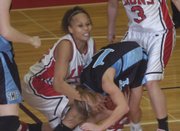 LHS vs. Shawnee Mission East
Players and coaches alike weren't afraid to admit it. After seven games, visions of an undefeated season were beginning to dance in the minds of the Lawrence High girls basketball team.
But nobody told Shawnee Mission East on Tuesday night, which perhaps came in with those same aspirations.
In a battle of unbeatens, SM East used quick guard play to edge LHS, 48-40, ruining Lawrence's bid for perfection and shocking the Lions on their home floor in the process.
"It was one of our goals to go undefeated," LHS head coach Kristin Mallory said. "It was one of our goals to go undefeated at home. They basically punched us in the mouth, and we didn't punch them back."
That punch by the Lancers (6-0) was more like a bevy of blows, most of which came during a devastating second-quarter run. After LHS built a 10-4 lead to begin the game, SM East held the Lions seven minutes without scoring. In the second quarter alone, Lawrence managed just two points, falling behind 23-12 at the half and never recovering.
"We were so used to winning," Lions guard Jasmyn Turner said, "that by the time we finally started doing the things coach was telling us, it was too late."
Cassie Potter's two three-pointers in the first quarter were the lone bright spots for LHS from the perimeter. Lawrence (7-1) missed its last 15 three-point attempts and uncharacteristically committed 24 turnovers. For the game, the Lions shot a paltry 14-of-54, good for 26 percent.
Mallory said her team simply had been getting by with playing one good half, but never a full game. And it finally came back to bite LHS, which didn't begin making a final push until falling behind by 14 points in the second half. Danielle Bird, Taylor Bird and Turner all helped trim the lead to six on separate occasions. Each time, SM East responded.
Following the game, players somberly emerged from the locker room as though they never had lost before.
And for at least two of the players, sophomores Potter and Haley Parker, they truly hadn't lost before. Mallory pointed out that both were undefeated in eighth and ninth grade as players on their school teams.
Taylor Bird, fighting tears, had a hard time putting the loss into words.
"We just didn't play like we should have," Bird said. "Hopefully it will make us play as a team, the whole 32 minutes."
Turner and Taylor Bird each finished with 11 points. Tania Jackson had six points and 12 rebounds.
Boys
SM East 74, Lawrence High 52
Before Tuesday night's tipoff, Lawrence High coach Chris Davis made sure his team knew about the long-range prowess of one player from SM East's team. His name was circled on the pregame white board. He was supposed to be a marked man from the outset, no excuses.
Unfortunately for LHS, no one took note of Davis' strategy, and Charlie Ludington torched the Lions for seven three-pointers in a 22-point blowout.
The lack of execution left Davis and the rest of Lions frustrated with the results.
"(Coach) sits there and tells us who the shooters are, and we just didn't do a good job of getting out on him," junior guard Bobby Davis said of Ludington. "He hit, what, seven threes on us? It's just ridiculous."
Even more frustrating, LHS (4-4) wasted what may have been its best quarter of the season to start the game. The Lions scored 20 points and led by two thanks to three Bobby Davis three-pointers. But the Lancers (7-0) sustained their level of play in the remaining three quarters while Lawrence fell off the pace considerably. Perhaps it was a sign of things to come when SM East scored all 18 of its first-quarter points on three-pointers. In all, the Lancers made 10 threes.
"It seemed like every time we started to do something good, they came back and hit shot after shot," LHS point guard Dorian Green said. "We've got to realize who their shooters are and get out there on them."
LHS still trailed by just six points at halftime (34-28). Then came a 10-0 run that featured - of course - three-pointers from Ludington and Michael McRoberts that put the game away.
McRoberts scored 23 points, and Ludington added 21, all on threes.
Green and Davis paced LHS with 12 and 11 points, respectively.
Copyright 2018 The Lawrence Journal-World. All rights reserved. This material may not be published, broadcast, rewritten or redistributed. We strive to uphold our values for every story published.