Photo Gallery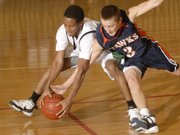 Free State vs. Olathe East
Locked in a tie game with less than a minute to go against Sunflower League foe Olathe East, Free State High's boys basketball team needed a bucket Tuesday night.
Coach Chuck Law decided the fate of the game would lie in the capable hands of his top two players - seniors Kris Wilson and Weston Wiebe.
Law called a timeout with 14.7 seconds remaining in the fourth quarter and diagrammed a play for Wilson to drive to the bucket. If the 5-foot-9 guard drew the help defense, his coach wanted him to drop a pass off for Wiebe, who was instructed to dive to the rim.
That's exactly what happened, and Wiebe converted a layup, which proved to be the game-winner in a thrilling 53-51 victory over the Hawks.
"We executed the play exactly like it was drawn up, which is a rarity at any level, particularly at the high school level," Law said after the Firebirds' (6-2 overall, 2-0 Sunflower) win. "Weston read the play exactly like we told him to. We said if (Wilson) didn't have the lane to the basket, you circle to the basket because that'll be the open area with the help (defense)."
Wilson, who scored a game-high 18 points, had no problem passing the ball to Wiebe, who scored 17, in the clutch.
"I knew Weston was going to make the layup all along, so I just drove it in there," Wilson said.
But the game wasn't over. Wiebe, who was fouled on the score, missed a free throw, and OEHS called a time out with 4.2 seconds remaining. Hawks guard Jacob Darby, who also scored 18, received the ball and dribbled up court. Darby looked poised to shoot a three, but was met with a double-team and dished to a wide-open Danny Mundweiler, who fired a would-be game-winning three that rimmed out.
Law joked that the defense on that shot won't be in the Firebirds' playbook in the future.
"That's obviously something we're going to scrap because you don't want to leave their best shooter (Mundweiler) wide-open behind the three-point line to shoot it at the buzzer. I thought it was going in," Law said.
But the coach was happy his team didn't buckle under pressure.
"I'm really proud of our guys. They battled the whole night long. We faced a lot of adversity and responded," Law said.
Wiebe thought this victory would help the Firebirds, who suffered a number of close losses last season.
"Since last year with all the losses by one or two or three or less than 10 points, it was good to finally get a close game under our belt that we won," Wiebe said.
Free State girls 43, Olathe East 27
The Free State girls didn't have to sweat out a close victory over the Hawks. They cruised thanks primarily to a 24-12 second quarter against OEHS.
"It was really good that we came out strong in that second quarter," senior guard Sarah Craft said. "We came out strong and started clicking. Once we get in a flow - we see it in practice, too - we're money. It was good that we had a breakout."
The Firebirds (4-3, 2-0) built a lot of momentum in the second quarter with a trapping full-court press.
"We had an excellent tempo in the game when we went to our press," coach Bryan Duncan said, adding that his team is typically a more patient offensive team. "Being ultra-aggressive, ultimately, is what made us successful."
Duncan said the Firebirds normally press only in spurts, but going to it continuously loosened his players up.
"The game's a lot easier to play when you get a few buckets in transition," he said.
Chantay Caron led a balanced scoring attack with 11 points. Maggie Hull scored seven, and Craft and Ashli Hill each added six.
The FSHS boys and girls will travel to Shawnee Mission East on Friday. The girls will tip off at 6 p.m., with the boys' game to follow.
Copyright 2018 The Lawrence Journal-World. All rights reserved. This material may not be published, broadcast, rewritten or redistributed. We strive to uphold our values for every story published.