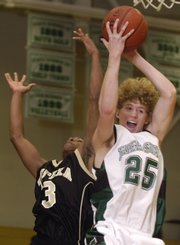 Jumping out early on your opponent apparently isn't always a foreshadowing of things to come.
Playing its first game in more than two weeks, the Free State High boys basketball team showed no signs of holiday rust Saturday night in the opening minutes - the Firebirds led by as many as nine in the first quarter at home against Topeka High. But that was the high point of the evening as FSHS fell to the Trojans, 65-46, thanks in large part to a disappointing second- quarter effort.
"I think that was a classic example of things coming too easy, too early," Firebirds coach Chuck Law said. "We started taking things for granted."
After cruising in the first quarter, FSHS (5-2) hit several bumps in the road during a dismal second quarter that featured only six points, one field goal and seven turnovers.
"We just tried to do stuff that we aren't able to do," senior forward Weston Wiebe, who scored 14, said after the loss to THS (3-3). "Things just weren't going our way and we didn't do a very good job of digging deep and working through it."
Law said his team got away from the transition and balance that had helped the Firebirds win their four previous outings.
"We started doing our own thing individually," Law said. "Individually, we're not a good enough team to just beat people. We have to play together as a team and really move the ball and run an offense where we get everybody involved."
Perhaps the most surprising part of the loss was the uncharacteristically cold shooting of usually-reliable senior guard Kris Wilson. He shot 1-of-9 from the floor and 4-of-14 from the charity stripe to finish with six points. Craig Rosenstengle (10) and Chase Hoag (8) were the Firebirds who helped Wiebe in the scoring column, not Wilson.
Wiebe said Wilson's off night made for a difficult outing, but he expects his teammate to bounce back.
"It hurts us a lot because we've got to find a way to score and when he's not scoring it's hard," Wiebe said. "Hopefully we'll learn from it and he won't have too many more games like that."
FSHS will host Olathe East on Tuesday at 7 p.m.
Copyright 2018 The Lawrence Journal-World. All rights reserved. This material may not be published, broadcast, rewritten or redistributed. We strive to uphold our values for every story published.