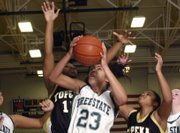 A slow start by the home team and a sizzling start for one visitor led to a disappointing finish for the Firebirds on Saturday night.
After shutting down a once-sizzling shooter for visiting Topeka High in the second half, the Free State High girls basketball team came within a point of the Trojans twice in the fourth quarter before falling, 58-55, at FSHS.
Topeka's Jessica Blake, a 5-foot-4 freshman guard, put on a long-range-shooting display in the first half, draining her first five threes and finishing 6-of-7 from behind the arc on her way to a game-high 21 points.
"We weren't shocked or surprised by that. She's been doing that all year," FSHS coach Bryan Duncan said of Blake, who also hit a nasty step-back trey to open the third quarter and give THS an eight-point lead before Duncan put sophomore Wren Wiebe on her and she failed to score again.
"We were supposed to switch screens, but we couldn't figure out how to switch and still stay on her," FSHS sophomore Chantay Caron said of Blake's first-half performance. "We finally figured it out, and Wren helped us out playing defensively."
Junior Ashleigh Allam agreed, citing Wiebe's play as a key factor in the Firebirds' second-half rally.
"Wren did an awesome job of shutting her down," Allam said. "When she sees something that needs to be done - like shutting Jessica Blake down - she goes out to do it. She's always a hard worker."
The Firebirds (3-3) lamented a slow start against the Trojans (3-3) as a deciding factor in the loss.
"In that second half, we were a lot more aggressive and played a lot more of the way we want to play as a team," Duncan said.
The Firebirds came within a point of Topeka three times in the final minute-plus. Allam deflected a Trojans pass, and Caron got a steal that led to a Sarah Craft bucket and free throw. Craft's three-point play made it 52-51 with 1:17 remaining, and another Craft layup with 34 seconds left cut the Topeka lead to 54-53. Caron scored after securing an offensive rebound with 16.6 seconds left, but Topeka's Sheronda Patton hit the deciding free throws with nine seconds to go.
"It was disappointing falling short," Caron, who scored a team-high 14, said. "I think what killed us was our first half. If we would've had a good first half, we could've pulled it out."
Allam said the Firebirds need to overcome that problem in the future.
"The next step for us is just being able to do it in the first half," she said after scoring 13 points. "We're definitely a second-half team, and if we could just have it in the first half, we'd be gold. We're going to get there."
Sophomore Ashli Hill, who scored 10, joined Caron and Allam in double-digit scoring for the Firebirds.
FSHS will play host to Olathe East at 5:30 p.m. Tuesday.
Copyright 2018 The Lawrence Journal-World. All rights reserved. This material may not be published, broadcast, rewritten or redistributed. We strive to uphold our values for every story published.