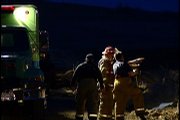 Crews worked Saturday to stop the spill of oil into a ditch and small creek in the 600 block of East 1850 Road.
The effort began about 4 p.m. and continued into the evening. Crews estimated about 100 gallons of crude oil spread into the field and creek.
"What we have is some type of water and oil leaking out of the ground next to a pump," Lawrence-Douglas County Fire & Medical Division Chief Joe Hoelscher said. "It's moved across the field and into a ditch and a small creek."
Crews made small dams to capture the water and oil and siphoned the oil from the water. The source likely was a small oil well about 300 feet from the road, Hoelscher said.
He said there was no threat to people or concern about fire and that the main objective was to minimize contamination to the environment.
Copyright 2018 The Lawrence Journal-World. All rights reserved. This material may not be published, broadcast, rewritten or redistributed. We strive to uphold our values for every story published.