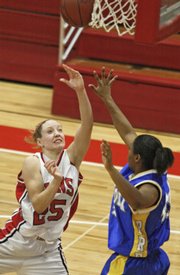 The Lincoln Prep Tigers traveled from Kansas City, Mo., on Saturday for a match-up against Lawrence High's girl's basketball team.
They may have wished they hadn't bothered.
Lawrence High welcomed the visitors with a 31-point second-quarter explosion that helped the Lions stay unbeaten and cruise past the Tigers, 73-31, on Saturday night.
It was the second game in as many days for the Lions, and from the early going fatigue seemed out of the question.
"It really isn't that big of a deal," LHS sophomore Jasmyn Turner said. "We knew we were going to come out and win the game, so we were ready."
The Lions (7-0) wasted little time establishing the tone, as junior Tania Jackson hit her first three shots for a 6-0 lead. Defensively, the Lions were equally as intense in the first quarter, allowing the Tigers just one bucket and forcing six turnovers in the first six minutes.
"We played really good in the second half last night (against Olathe Northwest)," Lions coach Kristin Mallory said, "and we wanted to come out strong in the first half here. We knew if we took care of the first 16 minutes, the second 16 would take care of itself."
After leading by 10 at the end of the first, the Lions turned up the heat in the second. The 31-point scoring outburst featured balance both inside and out. Junior Taylor Bird scored six of her 11 points in the second quarter on second attempts under the basket. Sophomore Lindsey Murray went 3-of-6 from mid-range, giving balance to the Lions' 48-17 halftime lead.
"They did a good job of sharing the ball," Mallory said. "Sometimes in that situation kids can get a little selfish and we talked about that. Although at times they did a little too much passing, everyone played well."
Turner led the Lions with 15 points, while Murray added 13. The duo rounded out an LHS roster that featured five players scoring in double figures.
Next up for the unbeaten Lions is another home game at 7 p.m. Tuesday vs. Shawnee Mission East.
Copyright 2018 The Lawrence Journal-World. All rights reserved. This material may not be published, broadcast, rewritten or redistributed. We strive to uphold our values for every story published.