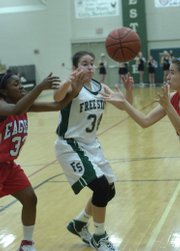 The holidays are officially over, but Free State High's girl's basketball team needed a little more time to make its way back to the court.
The Firebirds were out of sync for the entire first quarter of Friday's game against Olathe North, but shook off the rust in the second to cruise to a 43-29 victory at Free State High.
"We had good intensity coming out of warm-ups, but transitioning that onto the court was tricky," Free State senior Sarah Craft said. "Once we got in our spots and started passing the ball around, we were pretty fluid and took control of the game."
Free State (3-2, 1-0) began its Sunflower League opener out of sync offensively, missing its first six shots. The Eagles' Daryn Miller added to Free State's slow start by scoring the game's first six points to put the Firebirds in a quick hole. The defense helped limit the first-quarter damage to only a three-point deficit by limiting the Eagles to just five shots.
"We just needed to relax out there," sophomore Chantay Caron said. "In the beginning, we were just going crazy out there."
After the first-quarter break, junior Taylor Manning helped get the Firebirds rolling by hitting three of her first four shots in the second quarter. Free State turned Manning's hot hand into a more focused attack and hit seven of its 11 shots for the quarter, a far cry from the 2-of-11 shooting in the first. The momentum swing was good for 20 points in the quarter, giving the Firebirds a 24-19 halftime lead they would not relinquish.
It seemed once the Firebirds relaxed and gave themselves space, things turned around.
"They just kind of outhustled us in the early going," Free State coach Bryan Duncan said. "We stayed with it offensively in the second quarter and showed some patience. And once we got our spacing going, we were able to open things up inside."
Manning led the Firebirds with 14 points on the night, while Craft scored 12. Sophomore Ashli Hill scored four.
Copyright 2018 The Lawrence Journal-World. All rights reserved. This material may not be published, broadcast, rewritten or redistributed. We strive to uphold our values for every story published.