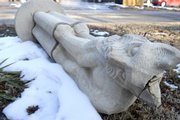 A Lawrence sculptor who has created several Jayhawks for Kansas University's campus is finding out the harsh realities of suffering for one's art.
A wildcat sculpture in Elden Tefft's front yard has been vandalized several times. Ironically, it isn't even a Kansas State Wildcat.
After a trip to Asia to teach sculptors a wax bronze casting process, the 88-year-old got the inspiration for his wildcat.
"It was mostly for a gate guardian," said Tefft, referring to the Asian practice of putting statues in front of temple gates. But he said his statue has "been trying to guard my gate all this time, but it doesn't do a very good job."
Tefft put the statue in his front yard, which is adjacent to KU's campus. After someone knocked it over, he added a concrete base to anchor the statue.
The sculptor later added steel rods to the base after someone knocked it over a second time. "I guess it's a game," the artist laughed. "They're trying to see if I can make it any more solid than they can push."
But to his son, it's no laughing matter.
"It's disappointing whenever that happens," said Kim Tefft. The hardest part of putting the statue back up is "the weight," he said. They will "probably have to have a crane in to lift it up," his father said.
Some would argue that the vandalism stems from the KU-K-State rivalry. However, Elden Tefft said, "The first time, it went down when we played Missouri, and that didn't make much sense to me."
He said the last time it went down, "Missouri beat us, and I figured they came over to put it back up, but they didn't."
The sculptor taught in KU's art department and has created many statues for the school, including the bronze Jayhawk in front of Strong Hall and the "Kneeling Moses" in front of the school of religion building.
"It's not a school symbol in terms of K-State or even in terms of the Tigers," Kim Tefft said. "We are great KU fans, born and bred."
The only evidence police have is a footprint left in the snow by one of the vandals, but that won't keep this sculptor down.
"When they destroy it, I'll quit," Elden Tefft said. "In the meantime, I'm not going to let that get me down."
Copyright 2018 The Lawrence Journal-World. All rights reserved. This material may not be published, broadcast, rewritten or redistributed. We strive to uphold our values for every story published.