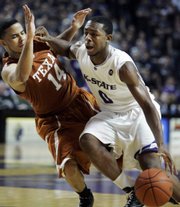 Manhattan — Following the first meeting of the season between Kansas University and Kansas State on Jan. 30, Jayhawk junior guard Mario Chalmers was - as usual - in a pretty truthful mood.
At least he was in regard to the 20 points K-State freshman guard Jacob Pullen dropped in the Wildcats' 84-75 streak-breaking victory.
"Yeah, he definitely surprised us tonight," Chalmers said then. "We really didn't expect him to do that much tonight. We knew he was an OK player and that he could get to the paint anytime he wanted to. Tonight he just had a good night."
Since then, it has been an up-and-down ride for Pullen, as is the case for most freshman at this point in the conference season.
Looking back over the eight games between the landmark victory at Bramlage Coliseum and Saturday's 8 p.m. rematch in Allen Fieldhouse between the two in-state rivals, Pullen will be the first to admit both his production and overall performances have wavered some.
"Coach (Frank Martin) sometimes gets mad at me because he says sometimes I play to the level of the competition," Pullen said following K-State's 74-65 loss to Texas on Monday night in Manhattan. "So some games he says I don't play as great, but he says when I play teams like Texas and KU, I play good games. I'm just trying to stay consistent like coach wants me to and just play good games against everybody."
"It's my job to get players to be consistent, that's the biggest difference between a college freshman and a college senior," Martin said. "That's the difference between kids and men, it's that we understand our jobs a little bit better. I know I didn't understand my job when I was 18. I worked, but I didn't understand how to work. And that's something that Jacob, he's gotten better at it, been more consistent. The more consistent he is, the better he becomes as a player."
If Pullen has established one thing, though, it's that he's dependable against the league's elite.
The 20-point showing against the Jayhawks included a 10-of-10 effort at the charity stripe and two huge three-pointers. He was five-of-five from the line in the final 3:21, and had four assists to just one turnover in 28 minutes. Monday against the red-hot Longhorns, the Maywood, Ill., native hit five trifectas, scored 19 points, had a layup in traffic that got him into SportsCenter's Top 10 plays and chipped in a couple of nice no-look dishes to Michael Beasley in transition.
But with the good, there's been an equal amount of blah.
Three days after beating KU, he scored just three points in eight minutes in a 77-74 loss at Missouri, also turning it over twice with no assists. Then, two days before the recent home loss to Texas, he had just one point on 0-for-5 shooting in a 92-86 loss at Baylor.
Further solidifying the inconsistent tag was how he bounced back from the Mizzou loss, combining for 28 points and 10 assists in back-to-back victories over Nebraska and Oklahoma State.
"He had one good game, and I haven't been seeing what he's been doing lately, so you can't say that off just one game," he said. "We've just got to be ready to lock in and be ready for everybody on K-State."
Pullen wasn't caught up in his own hype, either.
"It just helped our team win, to me that's all I look at it as," he said.
Though the KU performance remains his signature showing this season.
"If I caught them off guard, I guess it's their mistake then," said Pullen, averaging 10.3 points and 3.3 assists per game for the 18-9 'Cats. "Because, you know, we go through a scouting report, we go through everybody who plays on their team. And I had them planned. Me catching them off guard ... I guess I might catch them off guard again, I don't know, if they have the same scouting report."
Compiling a scouting report for Kansas State may be one of the most difficult tasks there is for a Big 12 coach.
In the loss at Baylor, freshman studs Beasley and Bill Walker combined for 75 points (44 and 31, respectively), with the rest of the team totaling just 11. Then against Texas, while Beasley posted 30, Walker tallied one point on 0-for-14 shooting, with Pullen assuming the role of No. 2 scorer (19 points).
"Even though he got 20 (in the first matchup), he played well, he was the best guard in the game, without question," KU coach Bill Self reflected. "He was the best guard in the game. And I think we have better players than that, and hopefully we'll do a better job trying to contain him."
Pullen's numbers away from Bramlage suggest his first Allen Fieldhouse experience could present quite a hurdle to clear. In six Big 12 games away from home, he's averaging 8.0 points and 3.3 assists a night. On the K-State campus, he's scoring 13.7 points and dishing 4.1 assists per game in seven league contests.
His field-goal percentage is actually higher on the road (51 percent) than at home (44 percent), but Pullen has shown a looser trigger at Bramlage, hoisting 73 shots in Big 12 play compared to just 35 as a visitor.
"Going to Allen Fieldhouse is going to be a really tough game, just like playing in Bramlage," Pullen said. "We've got a big crowd, so it's hard for people to play in here. Going into Allen Fieldhouse, I assume it's going to be a real tough place to play at. I heard it's a real small gym, I heard they pack it in just like we do. Other schools, they've got other facilities around, the sit-down seats. I heard Allen Fieldhouse is like us, with the bleachers and the student section's pretty loud. It's KU vs. K-State, so we expect it to be like our house when they came here."
But, according to Pullen, KU will be taken just as seriously as it was the first time around in January, even if the Jayhawks, like the Wildcats, have shown inconsistencies since then.
"They lost a few games since we played them, but they lost to some good teams. You know, Oklahoma State's not a bad team, no matter what the score was when we played them. It's hard to play any team at their home."
Copyright 2018 The Lawrence Journal-World. All rights reserved. This material may not be published, broadcast, rewritten or redistributed. We strive to uphold our values for every story published.