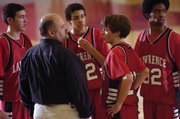 Lawrence High junior guard Bobby Davis insists that he's never heard the chant "Coach's kid, coach's kid," hurled in his direction.
Granted, Davis is a rather common surname, so it's possible that opposing fans might not have been willing to risk being wrong after seeing Davis listed on the roster with his father, LHS coach Chris Davis, listed as the team's coach.
However, just because the LHS junior hasn't taken abuse from rowdy away crowds doesn't mean he's stayed clear of the barbs that come with being the coach's son. Davis's own teammates have been known to rib him from time to time.
"I've never gotten it from an opposing crowd," Davis said. "But the guys on my team joke around about it sometimes. Whenever they've done it, though, it's all been out of fun."
So has the experience of playing for his father.
Davis first picked up a basketball in second grade and it was at that point when the coaching began.
"That's how I met everyone in my neighborhood," he said. "My dad put a ball in my hand and told me to dribble up and down the block with my left hand. Even at that age, it became a very important part of my life."
As time went on, the bond became even more important to both father and son.
The younger Davis got his first taste of playing for dad in summer leagues and on MAYB teams in fifth and sixth grade. He also experienced the game from a different perspective when he became an LHS ballboy during his dad's first season as an assistant coach with the Lions.
His role as LHS ballboy lasted several years. It undoubtedly added to his vast knowledge of the game.
"Without that, I don't think he'd be able to play at Lawrence High today," coach Davis said.
Even though Davis and his dad were separated during his time at Southwest Junior High, the coaching never stopped. The two talked basketball over dinner, watched games on television with a technical eye and worked on drills and technique whenever possible.
But even as basketball dominated their lives, both Davises made it a priority to set groundrules for the coach-son relationship.
"It's real easy to get caught up in either one of the roles," coach Davis said. "And I think it's real important that we're able to communicate. I'm very happy with the relationship we have. Sometimes I need him to be my son, and not one of my players."
During this, his first season playing for his father since elementary school, Davis has enjoyed every step of the way.
He's started more than half of the games for the 9-11 Lions and has found his niche on the team as a feisty defender and consistent outside shooting threat. More often than not his role has emphasized things such as sound defense, smart play and on-court leadership, all elements commonly found in children of coaches.
Davis attributes those aspects of his game to his dad's dual-role.
"It's not like he's just my coach," Davis said. "He tells me if I have a question about basketball that I want him to answer as my dad, all I have to do is ask him to be a dad. I love it. I l think it's awesome and I try to take advantage of it whenever I can. These guys only get him for two hours a day but I get him for 24 hours a day."
Because of his deep connection to LHS basketball and what he learned along the way, Davis has flourished as varsity regular, proving game after game that he belongs on the court.
"He's no stud, but I'm extremely proud of him," coach Davis said. "He's accepted his role, he goes out there and executes it and the thing he cares about the most is the team."
That attitude was developed at an early age. In addition to watching his father rave about the hustle and intelligence of LHS guards Taylor Parker and Stephen Vinson, he also watched other players around the Sunflower League, picking up bits and pieces from many players to mold into his own style.
One of Davis's most memorable moments came while hearing another Lawrence coach's kid take abuse from a group of rowdy fans. This time the fans were Lawrence High students and the player was Kyle Schreiner, a 2007 Free State High graduate, who played for his father and former FSHS coach Jack Schreiner during his junior year.
"That's when I realized I want that," Davis said. "I've worked for 10 years to be playing here on Friday nights at LHS and I'm loving every second of it."
Winners of three of their last four games, LHS will open sub-state play at 7 p.m. Thursday on the road against second-seeded Leavenworth.
Copyright 2018 The Lawrence Journal-World. All rights reserved. This material may not be published, broadcast, rewritten or redistributed. We strive to uphold our values for every story published.