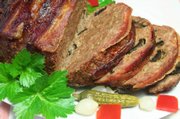 Past Event
When: Sunday, March 2, 2008, 1 p.m. to 4 p.m.
Where: 4-1-1 Studio, 411 E. Ninth, Lawrence
Cost: $2
-->
-->
Meatloaf gets its day in the sun this Sunday.
But don't worry Salmonella-phobes, it won't literally be in the sun. Nope, the staple dinner dish gets its due at the Great Lawrence Loaf Off at 1 p.m. Sunday at 411 E. Ninth St.
Described as a way to "honor this humble and timeless dish," the event features a potluck, with judges and prizes for top loaf.
Christina Hoxie, one of the event's organizers says the idea for the competition grew from a dinner party in which the friends began arguing over whose meatloaf was the best.
"It quickly grew into an open community debate that we thought it would be a lot of fun to have a party about," Hoxie says.
The event is $2 per plate - cash only, meatloaf lovers - with all proceeds going to charity.
Contributions of side dishes will be accepted and appreciated, but they will not be eligible for the prize categories. Water will be provided, but Hoxie says participants and attendees may want to bring their own drinks.
Meatloaf makers and loaf lovers can send an e-mail to loaf.off.2008@gmail.com for more information.
Copyright 2018 The Lawrence Journal-World. All rights reserved. This material may not be published, broadcast, rewritten or redistributed. We strive to uphold our values for every story published.