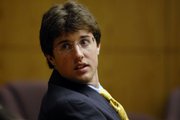 During testimony Friday, a Lawrence woman identified a former boyfriend as the man who strangled her unconscious and later forced her out of her apartment and into his car.
The 22-year-old woman also described in Douglas County District Court the tremendous pain she felt in her vagina and the profuse bleeding that accompanied it. Lawrence police officers testified that the back seat of the man's car was covered with blood.
It felt like she had glass inside of her, the woman said.
"What happened to me? Why am I hurting? What did you do to me?" the woman said she repeated while in the car, which was driven by a second man.
Following a daylong preliminary hearing, Judge Robert Fairchild ordered the suspect, Matthew P. Jaeger, 22, to stand trial on charges of aggravated battery, aggravated burglary, making a criminal threat and attempting to bribe a police officer.
Fairchild dismissed a second charge of aggravated battery. The judge said there wasn't enough evidence to show that the strangulation, injury to the woman's vagina and other injuries occurred in two separate incidents. He also took under advisement an aggravated kidnapping charge to determine whether the "aggravated" portion is warranted. He set Jaeger's arraignment for Tuesday. Jaeger can enter a plea at that time and a trial will be scheduled.
During her testimony, the woman said she was with a male friend in the bedroom of her Lawrence apartment early on the morning of Oct. 9, 2007. They heard glass breaking as someone broke out the front window. The woman said she feared Jaeger, her former boyfriend, had broken in. Jaeger had made repeated calls to her cell phone, she said. She told the man with her, Dylan Jones, to leave because she was afraid what Jaeger would do to him.
During his testimony, Jones said he dropped off a balcony outside the woman's bedroom just as Jaeger came out onto the balcony threatening to kill him. He then hid in the shadows of a nearby apartment building when Jaeger left the apartment and looked for him. Jones said he eventually ran to the woman's brother's house two blocks away and called police.
The woman said Jaeger strangled her in her bedroom.
"I woke up alone and in my own blood," she said.
The woman said she managed to crawl and walk outside where she said she heard Jaeger yelling and searching for Jones. She went back up an outside stairway to her second floor apartment. Jaeger followed her and dragged her down to his car and forced her inside, she said. Jaeger ordered the driver, Evan Carroll, to drive off, she said, both men ignoring her pleas to take her to the hospital.
Lawrence police received a report of a disturbance at the apartment complex in the 1200 block of George Court.
At Sixth and Florida streets - about a mile from the apartment - Officer Todd Polson stopped a car matching a description of one reported leaving the complex.
He handcuffed Carroll and put him in his patrol car. Carroll, from Kansas City, Mo., later told Polson he was trying to take the woman to the hospital but had gotten lost.
Officer Robert Neff said he repeatedly asked the woman and Jaeger, who were in the back seat of the car, to tell him what was going on. They did not respond. The woman was sitting with her legs closed and her hands holding her crotch. When the woman did get out of the car, blood was dripping through her pants onto the pavement. She was taken by ambulance to the hospital. The nature of this injury or how it came about was not clear from testimony Friday.
The woman was in the hospital for 11 days and had two surgeries, she said.
Carroll has not been charged.
Officer Larry Lindsay, who took Jaeger to jail, said Jaeger offered him $20 to remove his handcuffs and take him home.
Jaeger is free on $850,000 bond and has to wear a GPS monitoring device. He has been participating in a substance abuse program in California.
Copyright 2018 The Lawrence Journal-World. All rights reserved. This material may not be published, broadcast, rewritten or redistributed. We strive to uphold our values for every story published.