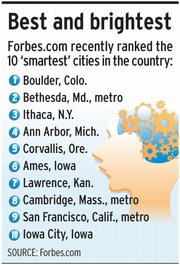 -->
Seventh Smartest City in America
If you always feel like your neighbors are smarter than you, it's probably true.
Forbes.com has ranked Lawrence the seventh-smartest city in the country.
"Employers are looking for a diverse population," Mayor Sue Hack said Wednesday. "If biosciences and high tech jobs are a priority for economic development, we can show those employers that we can meet their work force needs right here. They don't need to go to somewhere else, like North Carolina."
Forbes developed the rankings by comparing more than 300 metropolitan statistical areas in the United States and then ranking them by the percentage of residents with bachelor's degrees or higher. In its list, Forbes also mentioned the percent of residents who finished high school or had a Ph.D.
Almost 44 percent of Lawrence residents 25 or older have at least a bachelor's degree. About 93 percent of residents had graduated high school.
"I think it's a great complement to our educational system, all the way from pre-kindergarten all the way up through higher education," Hack said. "It's something we've always known, but it's nice to get national recognition."
Joining Lawrence on the list were Boulder, Colo., in first place, followed by Bethesda, Md., Ithaca, N.Y., Ann Arbor, Mich., Corvallis, Ore., and Ames, Iowa.
All those towns, and indeed most on the list, were home to a major university like Kansas University. Among KU's other Big 12 peers, Columbia, Mo., was 11th and Austin, Texas, was 24th.
Copyright 2017 The Lawrence Journal-World. All rights reserved. This material may not be published, broadcast, rewritten or redistributed. We strive to uphold our values for every story published.