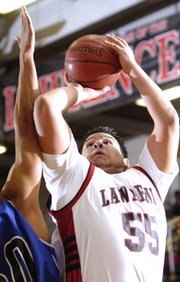 Four red scars are separated by inches between the left forearm and wrist. They're painful reminders of tendon graft surgery performed 31â2 months ago to repair a torn ligament in Lawrence High junior Chebon Dawes' left ring finger.
Dawes sustained the injury halfway through football season as an offensive and defensive tackle, but refused to sit out, instead opting for surgery only after the season ended.
He just wanted to play.
"I couldn't even grip anything," Dawes said, "but it was enough to tackle someone."
When he had surgery on Oct. 30, Dawes wondered how he would be able to contribute to this year's Lions basketball team. He hoped he wouldn't miss the season entirely because he loved basketball just as much as football.
He just wanted to play.
Dawes spent the next 10 weeks in a cast shooting layups and jogging lightly, watching his team from the sidelines. LHS basketball coach Chris Davis wasn't even sure how he would use Dawes if given the chance.
"Things were kind of working out with our rotation with him not in the lineup," Davis said.
Then the cast came off. On Jan. 12, Dawes finally was cleared to participate. He had missed more than half the season, but Davis said it quickly became apparent that Dawes needed to be on the court.
Three weeks later, Dawes was introduced in the starting lineup against Olathe East. He had gone from no spot to starting spot, where he has stayed ever since.
How did Dawes reach such a lofty position so soon? It wasn't his quickness - Dawes is listed at 6-foot-3 and 260 pounds. It wasn't his offensive skills - Dawes' name usually isn't followed by more than four points in the box score.
It was something else. The same mentality that pushed him through football season with a torn ligament helped him fight his way onto the basketball floor despite the fact he couldn't use his ring finger to get a rebound.
"He intimidates people," 6-7 center John Schneider said. "That's probably the biggest thing. He's a force on the boards, too."
Dawes' job is simple: get rebounds and set screens for Schneider to get the ball inside. But he has excelled at it more than anyone else, according to Davis.
"When people run into him, they complain about it," Davis said. "He is so thick that when he sets a screen, you don't get through it. And when you set a screen on him, you go down a lot of times. One of our missing links is how physical we need to be, and he just really helps us with that."
Dawes says he doesn't care if he scores zero points and nobody notices him in the stands.
He said his fondest memory this season was a play that didn't even show up in the box score - a screen on Shawnee Mission South point guard Will Spradling that sent Spradling tumbling to the floor.
"It was so fun," Dawes said. "After that, the kid always went around me."
Not the most glamorous aspect of the game, but enough to satisfy Dawes and keep him in the lineup.
After all, he just wants to play.
Copyright 2018 The Lawrence Journal-World. All rights reserved. This material may not be published, broadcast, rewritten or redistributed. We strive to uphold our values for every story published.