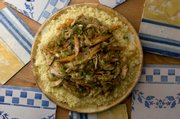 If ever the rotisserie chicken cookers of America went on strike, our nation would be doomed.
Without these utilitarian birds - which now come barbecued and organic in additional to the traditional roasted version - how would busy families get dinner to the table?
These chickens are most valuable as ingredients that can easily be transformed into meals that would take hours to prepare without the aid of the rotisserie.
For example, toss the meat from a still-hot bird with jarred pesto, then toss that with whole-wheat pasta and a bit of steamed broccoli. Shave a bit of Parmesan over it for a complete meal in about 20 minutes.
Or for a Middle Eastern approach, arrange the meat from the bird on a serving platter. Provide each diner with a bowl of hummus, some roasted or steamed vegetables and a few flatbreads, then let them make their own wraps.
Copyright 2018 The Associated Press. All rights reserved. This material may not be published, broadcast, rewritten or redistributed. We strive to uphold our values for every story published.