Photo Gallery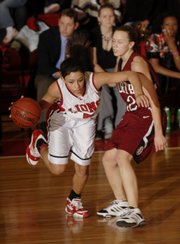 LHS vs. Shawnee Mission North
If they had their druthers, players on Lawrence High's girls basketball team would be involved in a track meet every game. And with such a guard-laden group, it's the full-court trapping, running and gunning that make for the most entertaining show most nights anyway.
Sometimes, though, LHS coach Kristin Mallory knows her team needs to switch up its strategy in order to be successful.
Locked in a close game against Shawnee Mission North on Tuesday night, Mallory sent her Lions into stall mode for the final four minutes of the contest and emerged with a 60-51 victory.
LHS didn't take a single shot from the field in that span, instead dribble-weaving with its guards near midcourt. When the Indians resorted to fouling, the Lions buried all 10 of their free throws to seal the victory.
Killing of the clock isn't something Mallory has practiced much with her team, but it was effective against SM North.
"To not turn the ball over when you're doing that, even when the other team knows exactly what you're going to do," Mallory said, "our guards handled that really well."
Haley Parker led LHS (15-4, 7-3) with 19 points. Seniors Danielle Bird and Lindsey Murray, each playing in their final regular-season home game, tallied 11 and six points, respectively. Jasmyn Turner and Tania Jackson both had nine.
Lawrence will travel to Free State High on Friday night for the regular-season finale. Tipoff is set for 6 p.m.
Lawrence boys 70, SM North 48
Both LHS coach Chris Davis and point guard Dorian Green described Tuesday night's game as crawling in slow motion for the longest time.
Just the way SM North - starting three big, physical players from its football team - wanted it.
But being bogged down in a contest in the low 40s only lasted for a while, as the Lions turned up the pressure just in time, closing the game on an 18-2 run to win handily.
"I think we were just kind of coasting along," Davis said. "Then it got to the point where we realized it was closer than it needed to be."
LHS (8-11, 3-7) takes on Free State at 7:30 p.m. Friday.
Copyright 2018 The Lawrence Journal-World. All rights reserved. This material may not be published, broadcast, rewritten or redistributed. We strive to uphold our values for every story published.