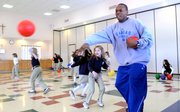 Alex Schmitthenner's cheeks flushed with anticipation.
Members of the Kansas University men's basketball team were coming to visit the second-graders of Corpus Christi Catholic School. And for some, the experience was akin to seeing real superheroes.
"Are they coming in a limo?" 8-year-old Alex asked as he fidgeted, his fingers clutching a Jayhawk picture colored by hand - a gift for the players.
All eyes were fixed on the entry as players Russell Robinson, Chase Buford and Conner Teahan entered.
Tuesday's visit was one of several stops to area schools this week. The players signed autographs, posed for pictures and played dodgeball.
"I love doing this," Robinson said as the kids lined up in front of him. "This is one of the things I enjoy. The kids look up to us. We try to be a positive role model in their life. We try to have an impact on them in any way that we can positively."
The players took questions from the small fans whose inquiries covered everything from player height to practice time to water consumption.
"What's your favorite thing to do?" one little fan asked.
Robinson answered that other than basketball, he likes to work out.
"It makes you feel a lot more confident about yourself," he said.
Other than basketball, "a lot of the guys on the team like to play video games with each other," Buford said.
Tuesday's visit came during a rare weeklong break before the team enters its home stretch. KU plays Oklahoma State in Stillwater, Okla., on Saturday.
"It's going well," Buford said. "It's starting to become a drive, but we're having a lot of fun."
Copyright 2017 The Lawrence Journal-World. All rights reserved. This material may not be published, broadcast, rewritten or redistributed. We strive to uphold our values for every story published.