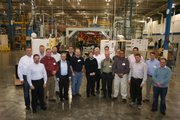 Employees and managers of HP Pelzer Automotive Systems Inc., Eudora, soon will be starring in a new production to be shown on screens worldwide.
The production: a video including how the Eudora plant is serving as the "best practice" example for the more than three dozen manufacturing sites that are part of Germany-based HP Pelzer Group.
The video, to be shown to employees at HP Pelzer sites, will feature how to live up to the company's lean manufacturing ideals and implement them within existing manufacturing practices.
HP Pelzer executives and managers met for two days last week at the Eudora plant, above, to review production gains. The plant, at 1201 Cardinal Drive, makes carpeting for General Motors and Chrysler vehicles.
"The efficiency and productivity which has been achieved here at Eudora deserves recognition, and we are pleased to give it to them during our international meeting," said Martin Kunzmann, chief operating officer of HP Pelzer Group and meeting chairman.
Tom Hanners is the plant's director.
Copyright 2018 The Lawrence Journal-World. All rights reserved. This material may not be published, broadcast, rewritten or redistributed. We strive to uphold our values for every story published.