Photo Gallery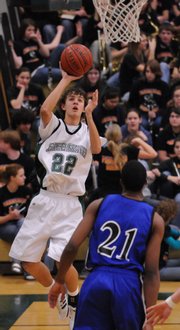 Free State vs. Olathe Northwest
Call it a day at the office for Free State High boys basketball team.
The Firebirds took care of business Tuesday night, disposing of Sunflower League cellar-dweller Olathe Northwest, 60-45, in the Free State gym.
"It was kind of a workman-like," Free State coach Chuck Law said. "It was a tough game to play in light of what's ahead on Friday."
Law was referring to the Firebirds' regular-season finale against Lawrence High, also in the Free State gym.
Then again, a couple of Firebirds stressed they really weren't looking ahead.
"We went in not thinking about Lawrence High until we'd won," senior Wes Wiebe said, "and we did a pretty good job."
Echoed Kris Wilson, another senior: "We weren't worried about Lawrence High or anything like that."
Wiebe and Wilson were the ringleaders, as usual, with the 6-foot-4 Wiebe collecting 17 points - almost half on stick-backs - and the 5-9 Wilson adding 16, including curiously the Firebirds' only two free throws of the night.
"They're obviously our primary offensive guys," Law said. "But Kristopher hasn't been offensive-minded lately, and tonight he was."
Wilson counted only five points in the Firebirds' last outing, a 57-39 win over Shawnee Mission West, and all five came in the fourth quarter.
"I've been looking more for my teammates," Wilson said, "but I know I'm going to have to score in some situations."
Free State (13-6) locked up at least a No. 3 seed in next week's sub-state at Lawrence High. Their foe is to be determined.
One of the possibilities is a rematch with the Lions in the sub-state opener. That can't happen, however, if the Firebirds win Friday night.
O-Northwest girls 30, Free State 25
Free State led by nine points with a minute and a half remaining in the third quarter, then put up a goose egg the rest of the way.
"We melted down in the fourth quarter, for whatever reason," Firebirds' coach Bryan Duncan said. "That's as poorly as we've competed all year."
After Rosie Hull drilled a three-pointer at the 1:31 mark of the third quarter, the Firebirds led 25-16. Then ONW scored 14 unanswered points.
"I'm as disappointed as I've been all year," Duncan said. "That's a game we had in our grasp, and we didn't take it. We melted down."
During that horrific 91â2-minute stretch, the Firebirds were 0-for-12 from the field and turned the ball over seven times.
Copyright 2018 The Lawrence Journal-World. All rights reserved. This material may not be published, broadcast, rewritten or redistributed. We strive to uphold our values for every story published.