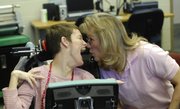 "Just sit her in front of the TV. That's the best we can do."
Those were the words Terry Kinworthy's parents were told in 1959 when doctors diagnosed her with cerebral palsy.
"Yet," said Dianna Towell, Terry's sister and guardian, "we always knew Terry understood us. You could see it in her face."
As the youngest of eight children, and the second in the family with cerebral palsy, Terry could not drink from a bottle; she had to be spoon-fed milk. Her body, riddled by spastic quadriplegia, moved incongruently, and speech was impossible.
Terry's family took turns caring for her needs, often giving up extracurricular activities to do so.
"We gained a lot more compassion, caring and love from taking care of Terry than we would have from those activities we missed," Dianna said.
Still, Terry shared in family activities and responsibilities. She often accompanied her five sisters and two brothers.
"Oh, yes," Dianna said, laughing, recalling the time when she and her husband, Kevin, were dating. "Terry went everywhere with us. She was a good chaperone."
Simple communication
Over time, Terry developed a simplistic form of communication with family members, moving her eyes to the left for "yes" and to the right for "no." Even then, it was a guessing game. Family members had to ask the right question in the right way to elicit Terry's desired response.
"It was very frustrating for her and for us," recalls Dianna.
At age 15, Terry was enrolled in public school for the first time. She was placed in an area designated for special education where a speech pathologist attempted to teach Terry to speak, to no avail. Dianna says she knows Terry loved going to school.
After her mother's death in 1984, Terry's home rotated among her five sisters until family difficulties dictated otherwise. Terry then spent three years in a nursing facility for the handicapped until guilt caught up with Dianna.
"It ate away at me so bad, I could not leave her there anymore," Dianna said.
By the time Terry returned to Dianna's home full time in 1999, Terry was able to use an augmentative communication device that allowed her to say one word by hitting a switch with her chin. Again, she was limited in what she could communicate.
However, a fresh search for services uncovered the Schiefelbusch Speech-Language-Hearing Clinic at Kansas University, which offers services to individuals with communication challenges throughout the Lawrence community and surrounding area while training graduate and undergraduate students in speech-language pathology. The clinic in Haworth Hall houses one of the most comprehensive augmentative and alternative communication resource centers in the country. It helps about 350 people a year.
At age 40, Terry began to learn to read and speak at the clinic.
"We knew she could not use her hands to hit a switch to activate a communication device, so we tried hooking it up to her legs, then her elbows, then we located a switch behind her head. It was a lot of trial and error in finding what worked best for Terry," said Jane Wegner, director of the Schiefelbusch Clinic.
'Great sense of humor'
Through much hard work, Terry started to learn to operate a Vanguard Plus communication device in 1999. Programmed with categories, words and a keyboard, it automatically scans through Terry's choices. Terry must coordinate her head and body movements to activate the switch near her head to select a word or sentence. Once her words are chosen and displayed on the screen, she activates a key that allows the device to speak her selections. Patience is required, yet Terry's delight in hearing her own words is evident in her smile and the spark in her eyes.
"Terry has a great sense of humor. She is very social and wants to talk," said Sandra Wright, project coordinator and lecturer at the clinic. "I have worked with Terry the last four years. Now I see her advocating for herself more."
Wegner added, "Now, with the use of a device, her intelligence is there for people to see."
Terry is now working on controlling a computer mouse using the Vanguard device so she can send e-mails to her family from her group home in Hartford, where she now resides. She has been able to speak with her family by phone with the use of her communication device. Terry currently serves as an advisory board member for a grant program underwritten by the clinic.
In her own words, Terry states that her life before her new communication device was "frustrating." She likes bright colors and only gets mad when someone she meets uses "baby talk" when speaking with her.
When asked to describe herself, Terry said she is "excited and happy."
As for the TV viewing doctors recommended nearly 50 years ago, Terry defiantly states, "No TV."
"It was the work of therapists at Schiefelbusch that really made the difference for Terry," Dianna said. "It's wonderful that she can tell us what she's thinking. It's like a brand new world for her."
For more information about the Schiefelbusch Speech-Language-Hearing Clinic, visit www2.ku.edu/~splh/Clinics/SchiefelbuschClinic.html, or call 864-4690.
Copyright 2018 The Lawrence Journal-World. All rights reserved. This material may not be published, broadcast, rewritten or redistributed. We strive to uphold our values for every story published.