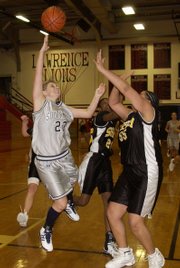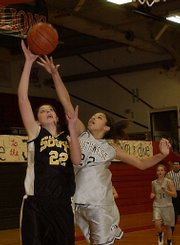 For two years, Cassie Potter, Jasmyn Turner and Ashli Hill played basketball without losing a game, finishing their careers at Southwest Junior High with an undefeated record.
A banner in the gym at Southwest celebrates that accomplishment.
But their junior high days are behind them now, and for each of the next three seasons, at least one of the girls is guaranteed to lose one game a year. That's because they're rivals now.
From teammates as Bulldogs to enemies as Lions and Firebirds. That storyline is just one highlight for the second showdown of the season between Lawrence High and Free State. Potter and Turner will head to FSHS to take on Hill and the Firebirds at 6 p.m. Friday.
"It's great," said Potter, a sophomore and starting guard for the 14-4 Lions. "I like playing against people I know, especially my friends because that just pumps me up even more."
With that in mind, consider the showdown with Free State one of Potter's favorites. Not only is it the game of the year for both city schools, it also presents a chance to match up against a former best friend in Hill.
The two sophomore starters remain close to this day, texting and talking whenever possible. But living life at different schools has caused their friendship to drift, making the meeting on the hardwood that much more important.
During the first encounter back in December, Potter and Turner got the best of Hill, winning, 44-30, at LHS. The victory moved the Lions to 5-0 at the time, setting the stage for a season of success. Both Lions were thrilled to come out on top in their first taste of the city showdown, but both admitted that beating a former teammate brought with it a weird feeling.
"It was better to be on top with the victory," Potter said. "But at the same time, I wish I was still getting that victory with (Hill)."
For two straight seasons, that's all this trio experienced. Led by Hill, Potter and Turner, Southwest finished 15-0 when the three were eighth-graders and 17-0 during their encore, ninth-grade season.
Former Southwest coach Michelle Karleskint, known to the girls as "Coach K," remembered thinking that taking the floor with them was unfair.
"I've never seen three girls be able to read each other like those three," Karleskint said. "Even as eighth-graders, you could tell that they were going to be big time when they got to high school. It really wasn't even fair."
With more than 30 victories to draw on, all three girls chose to remember their closest call when asked to recant memories of their time at Southwest.
Turner paints a picture of one game, late in their ninth-grade season, when Potter was sick and unable to make it to the gym.
"We were down 13 points at halftime, and I was so mad because I thought we were going to lose," Turner said.
Potter's response: "She told people it would've been my fault if we lost."
"That's not true," Turner insisted. "But I would've been mad if our one loss was without Cassie there."
As it turned out, Hill and Turner took over the second half, leading the Bulldogs to a three-point victory. No other win during the two-year run was decided by less than 10 points.
"Overall, when I think about those two years, it just brings back great memories," Turner said. "We never lost there. We have a sign there that says what we accomplished. It was a lot of fun. The only thing I don't miss is not having any competition."
That's not a problem any longer. These days, they are each other's competition. Potter pushes Turner in practice, and they both challenge Hill during the head-to-head match-ups. That can be a tall task - Hill stands 6-foot-5.
In the first showdown between city schools, Hill was less than lovable with her former teammates, setting hard screens and attempting to block shots with reckless abandon.
"I was just playing," said Hill, who, last time, happily told anyone who would listen that the Firebirds would win. "I was trying to send a little message. After the game, though, I wasn't mad at them, just mad that we lost."
As for any predictions about this time around?
"I'm not saying anything this Friday," Hill said.
She likely won't have to. All three players have let their play talk for them during their first season as high school athletes. All three figure to play key roles again Friday when Free State (8-10) plays host to LHS (14-4).
Regardless of the outcome, all three also expect to remain friends when the lights go out.
"It's high-fives before the game and hugs after the game," Potter said.
Copyright 2018 The Lawrence Journal-World. All rights reserved. This material may not be published, broadcast, rewritten or redistributed. We strive to uphold our values for every story published.