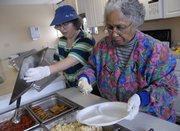 Even when times are tough, Douglas County residents can still be counted on to lend a helping hand.
Last year, when mortgage foreclosures shook the economy, residents managed to donate enough for the Douglas County Community Foundation to give out $400,000 in grants to 77 nonprofit organizations.
"The generosity of the people here really shines through at times when there are people having a tougher time," said Chip Blaser, executive director of the foundation.
Douglas County Senior Services is one of the organizations that received a grant, for $2,500, which went toward computers, said John Glassman, executive director. But funding isn't the only benefit Glassman said organizations receive from the foundation. Because the foundation works with so many groups, he said, it is able to identify overlaps in services or potential collaborations.
"They are very important to not just us, but all not-for-profits because they're able to have a perspective of the community as a whole," Glassman said. "I think that's a really essential role for a community this size."
Blaser said the foundation hopes to give out even more grant money this year. He also said new projects are in the works.
One is a community health initiative focused on nutrition and physical activity. The foundation is applying to work with the Kansas Health Foundation for that initiative, Blaser said.
Another project this year already involves the Kansas Health Foundation. Donations to endowed funds through 2008 will trigger a 50 percent match from the Kansas Health Foundation to Douglas County's Fund for Children, which will address issues such as health and after-school and early-education programs.
Since the Douglas County Community Foundation's inception in 2000, it has given out nearly $2.5 million in grants. The foundation, which is home to 57 charitable funds, also reported a $1.5 million increase in charitable assets in 2007. That brings its total assets to $13.1 million, making it one of the state's top five community foundations.
Copyright 2018 The Lawrence Journal-World. All rights reserved. This material may not be published, broadcast, rewritten or redistributed. We strive to uphold our values for every story published.