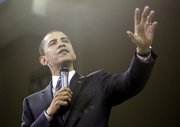 Milwaukee — Barack Obama said Friday that the country must do "whatever it takes" to eradicate gun violence following a campus shooting in his home state, but he believes in an individual's right to bear arms.
Obama said he spoke to Northern Illinois University's president Friday morning by phone and offered whatever help his Senate office could provide in the investigation and improving campus security. The Democratic presidential candidate spoke about the Illinois shooting to reporters while campaigning in neighboring Wisconsin.
The senator, a former constitutional law instructor, said some scholars argue that the Second Amendment to the Constitution guarantees gun ownerships only to militias, but he believes it grants individual gun rights.
"I think there is an individual right to bear arms, but it's subject to commonsense regulation" like background checks, he said during a news conference.
He said he would support federal legislation based on a California law that would facilitate immediate tracing of bullets used in a crime.
He said even though the California law was passed over the strong objection of the National Rifle Association, he thinks it's the type of law that gun owners and crime victims can get behind.
Six people, including the shooter, were killed during Thursday's ambush inside a lecture hall. Authorities said the two guns used were purchased legally less then a week ago.
Copyright 2018 The Associated Press. All rights reserved. This material may not be published, broadcast, rewritten or redistributed. We strive to uphold our values for every story published.