Photo Gallery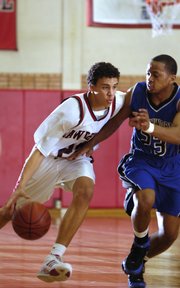 LHS boys vs. Leavenworth
Lawrence High boys basketball coach Chris Davis admitted Leavenworth may have overlooked his team Friday.
And with both squads on opposite ends of the Sunflower League spectrum, it wouldn't have been too hard to believe.
After 32 minutes on the court, and 38 more minutes in the locker room waiting for a broken rim to be fixed, it took everything the No. 1 team in the league had in order to escape with a 54-52 victory over LHS.
"That was a great high school basketball game," Davis said afterward. "It's games like this that you practice for."
The Pioneers (15-3, 8-1) never led by more than five points.
Lawrence established a 25-18 lead in the second quarter on John Schneider's turnaround with 5:13 left. Leavenworth then slowly chipped away and trailed 35-31 with 35 seconds left in the half. That's when an unusual delay occurred.
The Lions' Baba Diallo attempted a two-hand slam after a missed layup from Jared Vinoverski, but instead snapped the rim and tilted it sideways, sending both teams to the locker room early.
Davis said he worried that his team would lose its momentum as Leavenworth had time to regroup.
"I totally expected them to come back and get in the game," Davis said.
Leavenworth grabbed the lead for good on Isaac Johnston's three-pointer at the third-quarter buzzer, then had to fend off the Lions' rally.
Trailing 53-51, Lawrence point guard Dorian Green was fouled on a drive to the lane with nine seconds left, giving him two free throws and a chance to tie. The first swished home, but the second rattled out. The only chance the Lions had after that was a halfcourt heave from Green that clanged off the rim.
Green led Lawrence with 20 points. Even in defeat, Green said he was proud of his team's performance.
"We've been making strides the last couple weeks," he said. "We had them exactly where we wanted them. We showed tonight that we can play with anybody."
Copyright 2018 The Lawrence Journal-World. All rights reserved. This material may not be published, broadcast, rewritten or redistributed. We strive to uphold our values for every story published.