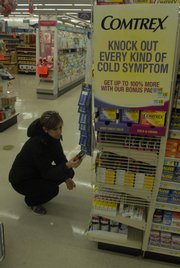 -->
The symptoms are all too familiar for people who have suffered from the flu.
The fever, the body aches and the headache that can make you say, "I feel like my head is going to explode."
At least, that's what 7-year-old Bryan Basore told his mom two weeks ago when he had influenza.
His mother, Becky Basore, a personal trainer in Lawrence, said Bryan stayed home for about a week from Quail Run School.
"I know that a lot of kids, a least 12 first-graders, were gone at the same time," she said. "It was really bad. Every week there's been a significant amount of kids sick, and they are sick for a while."
Outside of her son's elementary school, Basore said, "It seems like most everyone I know, their household has been touched by it in some sort of capacity."
Welcome to the 2008 flu season.
The annual round of illnesses actually had a slow start, but now Kansas and a majority of U.S. states are reporting widespread influenza, according to the Centers for Disease Control and Prevention.
And the flu even is afflicting people who were vaccinated. This season's vaccine isn't adequately covering two of the main viruses infecting communities across the country, health officials said.
Usually, flu cases start to drop off by mid-February, but that's not happening this year. The number of cases is continuing to increase. In the past week, Kansas and 30 other states have reported widespread influenza, and 17 states have reported regional influenza cases.
Kansas University students have been hit especially hard.
Dr. Patricia Denning, chief of staff at Watkins Health Center, said she's seen many students who had been vaccinated but still became ill. However, Denning recommends people get vaccinated - because it's unclear how long the flu season will last. Watkins is low on vaccines, but the Lawrence-Douglas County Health Department has plenty, officials said.
At Lawrence Memorial Hospital, Tricia Thomann, an infection control practitioner, said the number of people with the flu who've gone to the hospital so far this year is more than the number who did in all of 2007.
It's too early to tell this flu season's level of severity, said Joe Bresee, chief of the epidemiology and prevention branch for the CDC. However, the increasing trend of influenza activity this season isn't looking too different from others in the past two decades, he said.
Except for one thing.
This week, the CDC reported an 8.1 percent resistance level to oseltamivir - Tamiflu - which is one of two prescribed antivirals for influenza. That resistance is showing up in one of the predominating influenza strains of the season, the A H1N1 virus. Bresee said research is under way to investigate the resistance.
Influenza is caused by three main types or subtypes of the influenza virus: A virus H1N1, H3N2 and the Brisbane virus.
This year's vaccine isn't covering the H3N2 or the Brisbane virus, which began emerging last February, Bresee said.
LMH's Thomann said she's hopeful the flu season will begin to taper off soon.
"I'm hoping it does for everyone's sake," she said.
Until that happens, though, she recommended staying home if you're sick, staying hydrated and frequently washing your hands.
Copyright 2018 The Lawrence Journal-World. All rights reserved. This material may not be published, broadcast, rewritten or redistributed. We strive to uphold our values for every story published.