Photo Gallery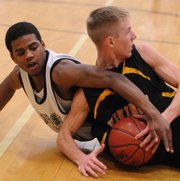 FSHS boys vs. Shawnee Mission West
It's no secret that Weston Wiebe is who the Free State High boys basketball squad turns to on offense.
Still, Shawnee Mission West had no answer for Wiebe, who seemingly could not be stopped in a 57-39 victory in which Wiebe scored 30 points.
"Weston was pretty dialed in tonight - at least on the offensive end," FSHS coach Chuck Law said. "I thought he was less than dialed in defensively, frankly. He didn't rebound the way we needed him to rebound. But offensively, when we moved the ball, we did a nice job of finding him and getting some easy baskets."
It's become so natural for teammates to look for Wiebe to the extent that they don't even realize how much he scores. In the third quarter, Wiebe scored 13 of Free State's 16 points - all of which were accompanied with assists.
"Him and Kris (Wilson), both at the end of the game, I never know that they have as much as they do," said a surprised Jake Miller when finding out Wiebe's point total. "They are both a big part of our team, so I expect them to score for us. I try to get the ball to them as much as possible and they make plays."
Miller is beginning to join the ranks of Wiebe and Wilson as a guy that can make plays.
The Vikings' defense couldn't constantly double-team Wiebe because of Miller's hot hand from the outside. Miller was 3-of-6 behind the arc and finished with 13 points for the game.
"When we can hit shots it makes everything a lot easier because it opens up the whole lane," Wiebe said. "So I definitely have to give credit to my teammates for hitting open shots outside and opening up things for easy buckets down low."
Miller's final three came with five seconds remaining in the third quarter. So confident is his team, that a play designed for him was called when the Firebirds inbounded the ball under their basket in the late seconds of the quarter.
"He's a good shooter and even if he starts missing, we're still going to get him to keep shooting because he can shoot the ball really well," Wilson said. "He's stepping up and doing his part, just like everybody else."
Wilson knows about looking for teammates to continue shooting. Wilson dished out six assists and waited until the final quarter to collect his five points in the game.
"We try to stress, frequently, with Kris to be a pass-first point guard," Law said. "He's done that really well the last two games. He's really focused more on getting his teammates the ball than looking for his own. We're a much better team when he does that.
"We need him to score at times obviously, but when he thinks pass first, he really gets his teammates involved. People don't stand around and watch him look to penetrate."
Copyright 2017 The Lawrence Journal-World. All rights reserved. This material may not be published, broadcast, rewritten or redistributed. We strive to uphold our values for every story published.