Photo Gallery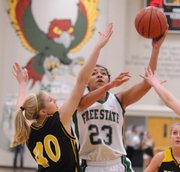 FSHS girls vs. Shawnee Mission West
The Free State High girls basketball squad saved its best for last Friday night against Shawnee Mission West.
Unfortunately, the Firebirds were nowhere near their best in the time leading up to that, and they lost, 53-38.
"I think we played really timid the first three quarters," FSHS sophomore Wren Wiebe said. "That fourth quarter we finally came out and played how we knew we could play."
After trailing by 20 for most of the second half, the Firebirds put together a 7-0 run midway through the fourth quarter to bring the deficit to 13 with three minutes remaining.
"We just came out stronger," said Wiebe, who scored six points. "Our defense really helped us. We made some aggressive moves to the basket and, overall, just played better."
The biggest issue Free State (8-10) had on defense early was the play of Shawnee Mission West's Heather Howard, who had a game-high 17 points.
Free State enjoyed a much better second half showing against Howard, however, holding the Vikings' 6-4 forward to just four points in the final two quarters with all of them coming from the free-throw line.
"In the second half we finally figured out how to play her on defense," Chantay Caron said. "We just had to find out that we needed to find her and we needed to be on top of our help defense."
Caron was the only Firebird to crack double-digits in scoring with her 11-point output. Chelsea Morgan was second on the team with seven points.
Like Wiebe, Ashli Hill and Ashleigh Allam also had six.
Copyright 2018 The Lawrence Journal-World. All rights reserved. This material may not be published, broadcast, rewritten or redistributed. We strive to uphold our values for every story published.