Photo Gallery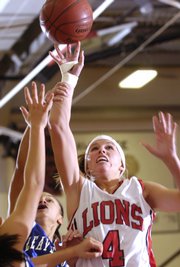 LHS girls vs. Leavenworth
Lawrence High's Tania Jackson stands 6-foot-3. Leavenworth High's Rachel Allen stands somewhere in the neighborhood of 5-3. Pair the two for the opening tipoff of a girls basketball game, and you get what happened Friday night.
Allen didn't bother jumping, instead choosing to retreat while the Lions brought the ball up court.
Soon after, the entire Leavenworth team was retreating - repeatedly - as Lawrence ran away with a 63-24 victory.
It was a welcome reprieve for the Lions, who had staggered to three losses on the road and hadn't played in their home gym for more than a month.
"I think maybe with all those away games, we got homesick," said Lawrence senior Lindsey Murray, who came off the bench to score 10 points. "We came out fired up with the band and everything tonight."
LHS certainly put on quite a show in front of the Lions' faithful.
The first quarter was a veritable playground, pick-up basketball game for Lawrence's players, who picked off passes like they were all-star cornerbacks and blazed up the court for easy layups.
"I thought our swagger was there," Lions coach Kristin Mallory said. "It started with defense, getting some turnovers. Our initial effort was great."
Not only did Leavenworth fail to score in the opening quarter, but the Pioneers put up just one shot. They spent the rest of the quarter backpedaling, trying to keep up with the Lions' quickness after committing 17 first-quarter turnovers.
Jackson opened with a bucket 31 seconds into the game. Two more Jackson layups in the first three minutes had the Lions off and running with a double digit lead, and by the time Jackson converted her fourth layup of the quarter, Lawrence led 24-0.
Mallory substituted frequently, and all eight of her players scored at least once.
"Hopefully, tonight returned our girls' confidence," Mallory said. "It was great to be back home and to hear the fight song before we started."
Jackson led the Lions with 14 points. Taylor Bird finished with 11. Lawrence forced 36 turnovers.
The Lions improved to 14-4 and 6-3 in the Sunflower League. Leavenworth fell to 5-12 and 2-6.
Lawrence takes on SM North at home on Tuesday, with tipoff set for 5:30 p.m.
Copyright 2018 The Lawrence Journal-World. All rights reserved. This material may not be published, broadcast, rewritten or redistributed. We strive to uphold our values for every story published.