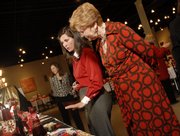 Robin Campbell had just turned 39 when her life took a drastic turn.
Campbell, of Lawrence, suffered a massive heart attack that stemmed from overlooked symptoms of heart problems.
For weeks, Campbell, now 42, had visited her primary care physician with symptoms: incessant coughing, shortness of breath and pain in her chest. Her physician gave her a physical stress test, but Campbell, a mother of two teenagers, who walks three miles every night, "passed with flying colors," she said. It was when she was at work at Sprint in Kansas City, Mo., that a massive heart attack hit and she fell to the floor unconscious. Co-workers were unable to help resuscitate her - and she had a shortage of oxygen to her brain - until emergency workers responded.
Campbell's lifelong friend Tracy Wedd, a nurse from Ponca City, Okla., said, "She was down long enough, she shouldn't have lived."
Campbell doesn't remember any of that. And she doesn't remember a lot after she woke from a medically induced coma.
But with the help of friends who kept journals for her, she shared her story of survival and "huge strides" of recovery Thursday with 200 women at Lawrence's Go Red for Women Luncheon, which highlights the need for women to take care of their heart health. The event was at Maceli's, 1031 N.H.
After several years of relearning everything, including how to swallow, Campbell's main message was clear: "Take your heart and your health in your own hands. Don't wait for the referral."
Campbell had a family history of heart problems. Her mother died in her 40s from congestive heart failure. A family history of heart disease and symptoms like the ones Campbell had can all lead to heart disease, the No. 1 killer of women in the United States. That's why the American Heart Association promotes heart health awareness during the month of February.
Thursday's luncheon, sponsored by several local organizations, including Lawrence Memorial Hospital and the American Heart Association, included keynote speaker Bernice Hiner, a cardiovascular invasive specialist at LMH. She stressed the importance of eating right, exercising, not smoking, and having good cholesterol levels and blood pressure.
"We need to make our health a priority," Hiner said. "Know the risk factors. Know the warning signs."
The luncheon was emceed by Cathy Hamilton, director of BoomerGirl Multimedia and Boomer Girl Diary columnist for the Lawrence Journal-World, another sponsor of the event. The event also featured a health expo and silent auction for red purses donated by local female business leaders.
The event and other Go Red for Women activities this month in Lawrence have raised more than $22,000. All proceeds will go to women's medical research.
Copyright 2018 The Lawrence Journal-World. All rights reserved. This material may not be published, broadcast, rewritten or redistributed. We strive to uphold our values for every story published.