Photo Gallery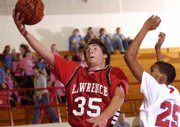 LHS boys vs. Olathe North
Olathe — Tired of the Lawrence High boys basketball team's losing ways, coach Chris Davis issued a challenge to his players before Tuesday night's contest at Olathe North. He described it as a "line-in-the-sand game" - a call to cease the hemorrhaging from a long losing streak immediately.
The Lions got the message. Twenty-four days and four games since their last victory, apparently, was long enough. Displaying a rekindled emotion, LHS pounced on the Eagles for a 60-56 Sunflower League victory.
"We played with a little bit more of a swagger tonight," Lions point guard Dorian Green said. "That's something we need to bring the rest of the season."
LHS was particularly fiery on this night. The Lions even got their first technical foul of the season when Lance Kilburn gave a referee an earful after he thought he was fouled on a layup attempt in the second half.
Then, holding an eight-point lead with 1:52 left in the game, Lawrence got its second technical - this one by the unlikeliest of candidates, the typically mellow John Schneider.
"I think we were frustrated because we knew this was a game we needed to win, and we didn't want to see it slip away," Davis said.
Behind the strong play of Schneider and Green, though, LHS wasn't about to let this one slip away.
Following a dismal second quarter in which the Lions shot 1-for-16 and trailed 22-18, Lawrence's dynamic duo had a field day with Olathe North's defenders. Green dazzled off the dribble, scoring on pull-up jumpers and at the rim. He also poked a pass away and went in for a one-handed slam. And it was Green's layup and foul with 1:08 to go in the third quarter that gave LHS the lead for good at 37-34.
Schneider, meanwhile, went to work inside. He scored five buckets in the post in the second half, getting fouled on the attempts that didn't drop through the hoop.
"We had an extra bounce in our step tonight," Schneider said. "This was a turning-point game."
In the final seconds, Schneider helped clinch the win with two free throws after the Eagles had cut the deficit to 58-56.
In total, the Lions' two stars scored 35 of the team's 42 second-half points.
"Whatever we can do to get a win is what we're doing right now," Green said. "Our guards have been trying to attack the basket and get the ball into John. It kind of just finally clicked."
Green finished with a game-high 26 points, with 18 coming in the second half. Schneider scored 17 of his 19 in the final two quarters.
After four straight road contests, LHS (7-10, 2-6) finally returns home Friday night to play Leavenworth.
Davis said he would take Tuesday's victory, no matter how hard it was to come by. He even joked the game may have caused a spike in his blood pressure.
"But when you've dropped as many as we've dropped, you just need to get over the hump," he said. "I've been telling the guys, we're right there, and I think they started to see it tonight."
Copyright 2018 The Lawrence Journal-World. All rights reserved. This material may not be published, broadcast, rewritten or redistributed. We strive to uphold our values for every story published.