Photo Gallery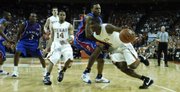 KU vs. Texas
Audio Clips
2007-08 Feb. 11 KU-Texas Hoops
Some thoughts...from Austin
Gary Bedore, Journal-World KU men's basketball beat writer
"KU now cannot afford to lose again if the seniors want to win a share of the league title for the fourth straight campaign. Texas was very good the second half, especially the non "stars," though Damion James will probably be a star before it's all said and done. Gary Johnson is gonna be great as well. I think Russell Robinson is right. KU lost the game at the start of the second half."
Ryan Greene, KUSports.com editor
"I felt before the game like Damion James could be one heckuva matchup problem for KU, and he sure proved to be...for 20 minutes. James sat 17 minutes in the first half after picking up two quick fouls. The other Texas big men, namely Connor Atchley, were a good quick fix in keeping KU from going nuts on the scoreboard while he was gone. James played the full second half, scoring 12 of his 14 points and collecting all 13 of his rebounds in that time frame. He hit two threes in there, had a couple of dunks and was four-of-four from the line. He drove Texas' 23-12 rebounding advantage over KU in the second stanza. Justin Mason was big there, too, grabbing six of his eight caroms after halftime."
Inside the numbers
100: Connor Atchley was a perfect 4-of-4 from three-point range in the first half, which helped make up for Damion James' offensive absence for much of the first 20 minutes. Speaking of three-pointers, KU hit just four of 17 attempts, making the Jayhawks just 4-of-26 from deep in the last two games - a mini-funk.
35: KU seems to play its best basketball this season when Darrell Arthur and Darnell Jackson are fed early and often on the offensive end. That happened early, but much after the half. The two were a combined 15-of-26 from the floor with 36 points, but only 11 of those tallies came after the break. Texas' interior defense clamped down after the half, allowing just nine field goal attempts between the two.
1: Texas' leading scorer - D.J. Augustin - was just 1-of-13 from the floor, but still managed 10 points. He was 8-of-10 from the free throw line, and still managed to controlled the pace of the game, turning the ball over just once. A.J. Abrams wasn't great either, going just 5-of-13 from the floor, but both were big at the line in the second half.
3: This win for Texas marked the Longhorns' third win of the season over a Top-10 team (they also beat Tennessee and UCLA). KU on the other hand hasn't defeated a team currently in the Top-25 and is 1-2 against ranked foes this year (the win being at Southern Cal). Texas, at 20-4, may have a better case at this moment for a No. 1 seed than 23-2 Kansas based on strength of schedule. Two of Texas' losses were to Top-25 teams - Michigan State and Wisconsin.
Just in case you missed it...
Bill Self said after the game that his team got 'outmanned' on the boards in the second half, and when he said it he certainly didn't mean by numbers of bodies. The Jayhawks were outrebounded by Damion James himself after the break, 13-12. Self seemed perplexed, considering that he warned his team at the break the 'Horns weren't going away on the glass after halftime.
Hopefully you didn't miss it...
Mario Chalmers' final line won't blow you away. The junior guard scored 13 points on 3-of-10 shooting and had five assists, but he wanted the ball more than anyone else in the crunch time of Monday's game and anyone watching could see it. He hit one tough three from straight away to make it a two-point game with just over 30 seconds to play, then fought to get a last-second glance at the bucket. It missed long, but Chalmers stayed defiant, claiming after the game he still strongly believes KU is the favorite in the Big 12 race. If you didn't believe he's the go-to guy, Monday should have helped make you a believer.
They said it...
Darrell Arthur on Damion James: "He came in the second half hot. He got two quick fouls in the first half, came out extra aggressive in the second half, made some big plays for them."
Darrell Arthur on how Texas cut down on KU's offensive production in the second half: "They chopped the posts a lot. It was hard to score down low in the second half. We still had opportunities to score, good shots. We just didn't knock them down. Second half, nothing was going our way. They played real good the second half."
Mario Chalmers on losing after holding D.J. Augustin to just one made field goal: "I think it's very frustrating. He's the key to their team, and we did a good job on him and A.J. It was just their other players that killed us in the end."
Mario Chalmers on the last play: "I think it was just a mix-up with us. We were trying to run a play at the end and we just didn't execute it to perfection, that was it."
Mario Chalmers on the Big 12 race: "It's very wide open. We've got a couple more games and we've got to keep playing our ball and keep focused and keep winning...We're still the favorite. That's what's in our minds, we think we're the favorite, we think we're the best team in the conference still."
Mario Chalmers on what was missing in the game for KU: "I think what was missing was stops down late in the game. We had a couple of rebounds that we missed at the end that could have helped us win the game, but sometimes stuff like that happens and we've just got to do a better job of not letting it happen."
Mario Chalmers on A.J. Abrams' block of Brandon Rush: "He was wide open, I don't know how A.J. got back. But that was a big play for A.J. and a big play for Texas."
Bill Self on Texas' big men Connor Atchley and Damion James: "It surprises anybody when guys go 4-for-4 from three, I mean even guards don't do that all the time. He's a good shooter. And Damion had a chance to sit on that bench the first half and boil a little bit because he wants to be out there and come out and just kicked our butts the second half."
Bill Self on getting outrebounded in the second half: "I think that they just outmanned us the second half. It does surprise me because that was all we talked about at halftime that they would come and really get after the glass, because you know Rick looked at the rebounding stats at halftime and mounded their butt, so that was the focus and we talked about that at halftime and our guys didn't respond to their aggressiveness, and our guards just did a really poor jobs blocking off in the second half. I thought Mason, of all the guys who were their best rebounders in the second half, I thought it was Mason."
Bill Self on A.J. Abrams' block on Brandon Rush: "He was open. We had a good look, we weren't necessarily trying to shoot a three there. We have a couple options off a little play we run, but he was open, Brandon took his time getting it off and A.J. did a nice job of closing. A really nice job."
Bill Self on his team's defense: "I thought (Augustin) got in the paint too much, but he's not gonna go 1-for-13 (a lot). So obviously I can't be upset with our on-the-ball defense with him, but he controls the whole game and the pace of the game, and I thought we did a pretty good job on him. I actually thought we did a good job on A.J. after the game started, after the first 10 minutes, but we just did a real poor job on Atchley, and Damion's a hard matchup, because if he's gonna step out and hit threes and he's gonna put it on the deck and get past you, that's a hard matchup. We did a real poor job on Mason and Damion the second half rebounding the ball."
Bill Self on the final play: "It was a bad possession. We had something we wanted to run, we took the ball to the wrong side of the floor and it killed the play. And those things unfortunately happen. We had enough time to do it, eight seconds is enough time to do it."
Copyright 2018 The Lawrence Journal-World. All rights reserved. This material may not be published, broadcast, rewritten or redistributed. We strive to uphold our values for every story published.