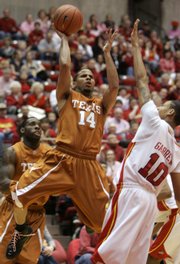 Austin, Texas — Last year, Texas had the top point producer in the Big 12 Conference in Kevin Durant.
This year, the Longhorns are fueled by the league's No. 2 and 3 scorers - sophomore D.J. Augustin (19.7) and junior A.J. Abrams (17.9).
"They are two of the best (guards) around," KU coach Bill Self said.
Had Michael Beasley not emerged as this year's Durant, Augustin likely would be leading candidate for conference Player of the Year.
"He's just all-around good," KU's Brandon Rush said of Augustin, a 6-footer out of New Orleans who has made 44.5 percent of his shots, including 43 of 118 threes (36.4 percent). "He's so quick with the ball. He can create his own shot, find people. He's just great. He's one of the greatest point guards I've ever seen."
Augustin has 134 assists against 64 turnovers. Abrams, 5-11 from Round Rock, Texas, has made 45.1 percent of his shots, including 72 of 188 threes (38.3 percent).
Abrams hit seven of 10 threes and scored 25 points in a 71-65 overtime victory on Saturday at Iowa State. Augustin had an off night with 17 points off 5-of-22 shooting (1-for-7 on threes).
In a two-point victory over Oklahoma State, it was Abrams who had an off night, going 0-for-7 beyond the arc.
"A.J.'s a really cerebral player. He doesn't have to make a three-point shot to be a good basketball player," UT coach Rick Barnes told the Austin American-Statesman.
"I've got somebody in my face all the time," noted Abrams, who made a Big 12-record 120 threes a year ago off 42.3 percent shooting. "Any opening I have, they close the gap pretty quickly. Teams are running me off the three-point line. I try to get into the paint."
Barnes said teams focusing their defenses on Abrams might not be a good idea.
"A.J. can get them (teammates) shots without ever touching the ball," Barnes said, "because people are afraid to leave him open. That's where our post players have to react quicker. The younger guys, as a group, haven't understood yet where scoring opportunities come from."
UT's third-leading scorer is Damion James, 6-7 from Nacogdoches, Texas. He averages 12.7 points and 10.6 boards. Only KSU's Beasley averages more rebounds in the league (12.3).
"Without Durant, I knew he was going to start going off," KU's Darrell Arthur said of James. "He's always been a good player. I've been watching him for a long time now. He gets some things done. He can play inside. He can play outside. He's got a nice touch from three. He's got a nice pull-up game, and he's rebounding the ball real well right now, so it's going to be a tough matchup."
Texas (19-4, 6-2) has won three straight games since an 80-63 loss to Texas A&M; on Jan. 30 in College Station. UT beat Baylor at home, 80-72, and last week won at Oklahoma (64-54) and Iowa State (71-65, OT).
Texas had marquee nonconference victories over Tennessee (97-78) and UCLA (63-61) to go with losses to Wisconsin (67-66) and Michigan State (78-72). UT is 12-1 at home, the only loss to Wisconsin.
¢ Attendance: Basketball, of course, will never be king in the great state of Texas.
Not as long as football is around.
Not even the presence of Bob Knight, college basketball's all-time winningest coach, could spark interest in Lubbock, where Texas Tech's Red Raiders averaged 6,610 fans per home game in what proved to be the Hall of Famer's last season on the bench.
Three hundred ninety miles down the road, Texas, led by popular 10th-year coach Rick Barnes, has averaged just 12,926 fans in 13 home dates in 16,755-seat Erwin Center heading into today's 8 p.m. Big Monday clash against Kansas.
That includes an actual turnstile count of just under 10,000 fans per game.
Typically, the Longhorns sell out one or two basketball games a season, while all gridiron games, of course, are standing-room only.
This year, showing serious signs of life, UT will have at least five basketball sellouts - tonight's showdown against KU, as well as games against Colorado, Texas Tech, Texas A&M; and Oklahoma.
"It makes you feel good," Texas guard Abrams told the Austin American-Statesman, referring to growing interest in hoops. "We want to play harder for them (fans). We feed off the crowd."
UT athletic department officials are trying to find ways to make sure 6,000 ticket holders who are members of the Longhorn Foundation (many of whom donate big bucks to get prime seats in football but don't care much about their hoops seats) can redistribute their basketball tickets easily.
Ticket holders now can log onto Texassports.com and sell ducats through Texas Ticket Marketplace. There also have been efforts to increase student attendance.
¢ Pittman still huge: Sophomore big man Dexter Pittman stands 6-10 and weights 299 pounds, give or take a few.
He has lost about 70 pounds since arriving as a freshman in June of 2006. Pittman's body fat since arriving at UT has been reduced from 41.6 percent to 13.8 percent.
"He's changed my life," Pittman said of Todd Wright, the team's strength and conditioning coach.
Pittman is averaging 3.0 points and 2.0 boards a game.
¢ Johnson back in action: Freshman Gary Johnson averages 5.9 points and 4.2 boards in 10 games for the Longhorns.
The 6-7, 235-pounder, who averaged 26 points and 13 boards his senior year at Aldine (Texas) High, was cleared to play in early January after doctors deemed his unspecified heart condition was no longer a threat to his health.
"I feel like it's a gift just to be able to play again," Johnson told the Austin paper. "I was told once there was a possibility that I probably would never be able to play again. It was kind of hard to take. I cried."
Copyright 2017 The Lawrence Journal-World. All rights reserved. This material may not be published, broadcast, rewritten or redistributed. We strive to uphold our values for every story published.