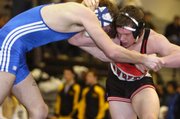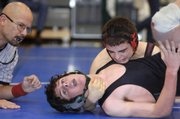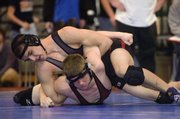 Olathe — Lawrence High and Free State High's wrestlers came away from Saturday's Sunflower League championships asking: "What if?"
What if the Lions had earned more points at the back end of their draws? What if the Firebirds' few wrestlers had put on better showings in the early rounds?
Had things been different, maybe Lawrence and Free State wouldn't have finished in 10th and 12th place, respectively, at the league tournament.
LHS coach Patrick Naughton lamented the fact that many of his wrestlers failed to score points after being relegated to the bottom of their brackets. The Lions were held scoreless in seven weight classes.
"We've got to get that fixed for next weekend," said Naughton, referring to the regional tournament that will help toward qualifying for state. "There's only going to be eight teams, and if you want to finish in the money, you've got to be scoring points every time you step on the mat."
Free State coach Paul Lappin said he was disappointed in his team's initial effort.
"The first round, we came out real flat," Lappin said. "Everyone just didn't wrestle well. The second round, I got on them a little bit. They came out with a lot more fire. We still lost some tough ones, but they put up more of a fight."
Still, there were some solid showings by wrestlers from both teams.
For Lawrence, Jake Pfannenstiel advanced all the way to the championship match at the 130-pound weight class, only to be beaten, 9-2, by Olathe Northwest's Brad Cooper, who ran his record to 29-3. And at 160 pounds, Brian Cain finished with the best record of any Lion wrestler at 4-1. Despite losing his semifinal match, he came back to win the third-place match by pinning his opponent in the third period.
The Lions had three other wrestlers place. Levi Flohrschutz finished fifth at 125 pounds, Caleb Torneden got sixth at 103 pounds, and Dustin Walthall took sixth at the 152-pound weight class.
Free State brought just six wrestlers to the meet, but the Firebirds still placed two of them.
Jack Caywood, one of the Free State wrestlers that performed poorly in the first round, stormed all the way back to beat Chase Kroenlein of Shawnee Mission West, 4-1, in the fifth-place match at 140 pounds.
"I wrestled really bad my first match," Caywood said. "So it was just an uphill struggle from there. I thought I came back pretty well, though."
Julian Kuszmaul also placed for the Firebirds, finishing in sixth at 189 pounds.
Both teams' coaches said they were looking forward to putting their focus on next week's regionals and qualifying wrestlers for the state tournament. And the wrestlers agreed.
"Today just wasn't our day really," Pfannenstiel said. "But we'll do better next week at regionals."
Copyright 2018 The Lawrence Journal-World. All rights reserved. This material may not be published, broadcast, rewritten or redistributed. We strive to uphold our values for every story published.