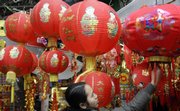 With the Lunar New Year arriving Thursday, Korean, Chinese and Vietnamese families are abuzz. They're headed to Asian shops and restaurants for dishes and ingredients needed during New Year celebrations.
Even if you don't follow the lunar calendar, the New Year is a good time. It allows adventurous diners the chance to taste unfamiliar flavors. And since some of these dishes are lucky, they may even bring you good fortune.
To expand your palate, try these foods:
¢ Duk guk and Man doo guk: These soups are traditional during Korean New Year celebrations, says Sorina Oh, owner of Samos Kitchen in the Mission Village shopping center in Fresno, Calif. Duk guk (also known by ddeok gook, tteok guk and other spellings) contains chewy disks called Korean rice cakes. Man doo guk (also known by mandoo guk and other spellings) contains dumplings filled with meat, vegetables and tofu. Samos serves both.
¢ Jab chae: This dish (also known as jabchae, japchae or chapchae) is customary for Korean New Year, says Oh, who serves it at Samos. The dish uses sweet potato noodles, which don't break easily - they represent people's lives, and "if it is a strong noodle, it is a long life," Oh says.
¢ Banh tet and banh chung: These are bundles of banana leaves wrapped around steamed rice, mung beans and pork. Banh tet is shaped like a long cylinder, while banh chung is shaped like a square. They are traditional throughout the country, but the preferred form of these Vietnamese rice cakes differs according to region.
¢ Thit kho: Around this time, you might see Vietnamese cooks buying coconut juice and fish sauce (the salty juice of fermented fish) at Asian stores. They'll need these ingredients for thit kho, a traditional dish of braised pork and eggs.
Copyright 2018 The Associated Press. All rights reserved. This material may not be published, broadcast, rewritten or redistributed. We strive to uphold our values for every story published.