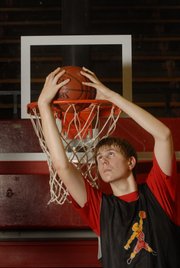 What's it mean to be a 6-foot-7-inch 18-year-old?
To be a 6-7 teenager is to duck under doorways in your parents' house just to use the bathroom. It means you gladly would trade in your smaller, decade-old four-door Pontiac for an SUV just for the extra leg room. It also means you're the first person students recognize walking down the high school hallways.
What's it mean to be a 6-foot-7-inch, 18-year-old starting center with loads of ability for a Class 6A basketball team?
It is to draw the opponent's best post player every game while all offensive sets run through you. It is to be the most likely candidate for ridicule by opposing student sections. It means people expect you to put up spectacular numbers just because your arms can touch the rim while standing flatfooted.
Lawrence High senior John Schneider has dealt with this height discrepancy and the expectations that come with it first-hand for quite some time. But he said he learned to deal with it long ago.
"It bothered me when I was younger," said Schneider, who was 6-foot and towering above most everybody he knew in junior high. "But my dad talked to me about it. He just said, 'That's just how you are, that's how God made you.' I'm blessed to have all this height and this talent to play basketball, so I just go with it."
Just go with it: a calm, composed mentality never too far from Schneider's thoughts and something he lives by on the hardwood. About as even-keeled as they come, Schneider never lets himself get too high or low emotionally while battling in the post, even during the most hotly-contested league slugfests.
"I'm always trying to have fun and lighten things up," Schneider said.
Sometimes, though, the big man's mannerisms can be misunderstood. At times, he is content with deferring to teammates, playing unselfishly to get others involved. That can make people wonder if he's holding something back.
Not so, said LHS basketball coach Chris Davis. Schneider simply prefers to go about his business in a quieter way.
"He's reserved, and I think a lot of times it comes off as he's not trying very hard, and that's not what's going on," Davis said. "It's just his personality. He's not a big talker. What's interesting is he talks pretty seldom. So when he does, people listen."
Davis said it took him time to learn the right way to approach Schneider's casual, laid-back attitude.
"I've run the gamut with him from praise to being real upset," Davis said. "For the most part, the best way to talk to him is straight up."
Case in point: At a recent practice, the senior was struggling during a one-on-two post up drill with the other big men. Schneider fumbled and lost control of a pass inside.
Davis seized the opportunity.
"Be big," he urged Schneider. "C'mon. Let's go."
On the very next attempt, Schneider responded with a slick spin through move between two players for an easy lay-up. Minutes later, he was burying 12-foot jumpers during the team's three-on-three drills.
That kind of maneuvering around the court is no anomaly for Schneider. While many 6-7 post players would be happy standing around like a chunk of cement under the hoop, Schneider has demonstrated the ability to score in a variety of ways.
Mid-range jumpers, fade aways on the block and even the occasional three-pointer all have become part of his offensive arsenal this season.
"He's got a good shot, and he's not just one dimensional," Davis said. "That's a pretty cool thing about him. He does a lot of things well."
His statistics this year back that up. Following a junior season that garnered honorable mention all-Sunflower League honors, Schneider's game significantly has improved. This year, he leads the Lions in points per game (14.6), rebounds (6.3) and blocks (1.8) while shooting 59 percent from the field and 71 percent at the free throw line.
All this coming as he commands the most attention from opponents.
"It's obvious he means a lot," LHS point guard Dorian Green said. "You'll see teams that double and triple team him. He gets a lot of respect because he can play inside and outside, and that's what makes him so versatile."
Still, Schneider says he knows the numbers he's putting up don't necessarily satisfy everyone who comes to see him play. In typical Schneider fashion, though, he shrugs it off.
"I don't get mad or anything," Schneider said. "I'm just used to it. People expect complete domination if you're 6-7. But that's not the whole idea of the game."
Spoken by a team player and a quiet leader whose game is just as big as he is.
Copyright 2018 The Lawrence Journal-World. All rights reserved. This material may not be published, broadcast, rewritten or redistributed. We strive to uphold our values for every story published.