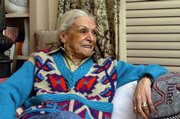 The death of a spouse can leave a person with more than grief and loneliness.
The survivor may be left with the responsibilities their significant other often handled such as balancing the checkbook, working on the car or preparing the taxes.
A program called SkillBuilders is taking off in Douglas County to teach widows and widowers how to live independently.
"Just because you never had to doesn't mean you can't," said Rosemary Kay, 80.
Kay has helped with the educational and emotional support program since it started in September. On Jan. 16, the United Way of Douglas County awarded SkillBuilders the 2008 Community Impact Grant. The grant will provide $47,000 in funding over a three-year period. Douglas County Senior Services, the Lawrence Public Library and Douglas County Visiting Nurses, Rehabilitation and Hospice Care are partners in the program, which they hope will expand in the next year.
As a widow herself, Kay said she appreciates the resources SkillBuilders offers.
During each weekly session, guest speakers assist with the educational portion. For example, Douglas County extension agent Susan Krumm teaches how to cook healthy meals for one; Cheryl Trenholm of Barber Emerson LC provides estate and legal lessons; and Hospice Care employees provide counsel on issues such as "dealing with special occasions."
What is most important, however, is the emotional support, Kay said.
Kay's husband, Bob, former owner of Westside 66, died in 2002. They were married 48 years. Before they retired in 1996, they co-owned a propane company in Rockport, Texas. Kay said she is fortunate to have strong support systems in Lawrence and her hometown in Texas. Friends and family have helped her move forward and stay busy. Her strong, independent nature has helped her, too.
"You just deal with it," she said.
Everyone handles grief and loss differently.
Laura Kaiser, a licensed master social worker and bereavement counselor with Douglas County VNA, said people who suffer a loss tend to go "inward."
"I think a lot of people are afraid to be open with their mourning because they don't want to break down or bother others," she said. "But inside they may be feeling lonely. Some feel like they're going crazy. Oftentimes it just shakes their world so much. A lot are just going through the motions and not feeling very alive."
Pattie Johnston, senior outreach coordinator at the Lawrence Public Library, said sometimes seniors don't ask for help because they fear losing their independence and self-respect.
"There is the idea they have that if they can't take care of themselves at home, or can't handle being alone, that they need to move into a retirement or nursing home," she said.
Jessie Kwatamdia, program manager for Douglas County Senior Services, said that's part of the reason why it's so hard for people to come to the program. On average seven to eight people have participated in meetings, but she knows there is a higher need in the county.
Once at the program, peers counsel each other, she said. Kwatamdia, Johnston, Kaiser and other representatives of their agencies mediate, but want the widows and widowers to help each other.
"No one can understand what you are going through," Kwatamdia said. "That's the point of the group, to put people together who understand the pain."
Kay has served as a role-model to other widows and widowers, Kaiser said. The long-term goal of the program is for it to be peer-directed by people like Kay.
Broad focus
The Douglas County SkillBuilders is modeled after an 18-year-old Johnson County program that has proved successful. The program is for people of all ages.
"Death doesn't discriminate," Kwatamdia said.
It's also designed to help caregivers but so far none has attended, Kwatamdia said. She said she's hopeful that will change because caregivers often don't take care of themselves as well as they take care of others.
Sarah Randolph, marketing specialist for VNA, said the grant would allow them to build a volunteer board to sustain the program in the county.
Kwatamdia said the grant would also allow them to add an additional week to the series of programs, advertise to attract more participants and speakers, and provide take-home packets with information and supplies.
Another session of SkillBuilders will begin March 6. All of the programs will be on Thursdays at the Lawrence Public Library, 707 Vt. Transportation can be arranged through Douglas County Senior Services by calling 842-0543.
Copyright 2018 The Lawrence Journal-World. All rights reserved. This material may not be published, broadcast, rewritten or redistributed. We strive to uphold our values for every story published.