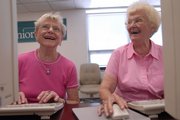 A group of tech-savvy senior citizens meets regularly at the Douglas County Senior Center, learning to communicate with family across the country via computer.
They send digital photos, chat through a Web camera, surf the Internet and pay bills online with the swift and confident click of a mouse. Teacher Amy Barnes lures in her students with sass, self-deprecating humor and, sometimes, cookies.
"If we can get them in the building, I can take it from there," said Barnes, who anticipates that as baby boomers age and computers become more complex, seniors will demand more services like hers.
If it weren't for Barnes' computing class, many participants wouldn't touch a computer, student Lois Adriance said.
"Attitude is 90 percent of it," she said. "Being able to come here and come to this class is opening up another world to seniors."
Just a couple of years ago, before she started taking the classes, Adriance felt out of touch with a very connected world.
"There were things I wanted to do faster and better," she said.
One of those things was online banking. She said the automatic record of transactions is a good safety net. When her memory fails her, Adriance hops online to find the documentation she needs.
"I wanted to send a check to one of my grandchildren, and I couldn't remember if I'd sent one for her yet or not, but there it was," she said.
Classmate Alice Amyx bought a computer when she got tired of getting secondhand information about her grandson, who went away to college three years ago. Aside from using the Web camera to see her two new great-granddaughters, Amyx said e-mail saved her time from making phone calls.
"This is so personal, and I feel like I have more contact with my family than ever before," she said.
Barnes said students have become increasingly ambitious with the computer.
"Rather than just getting and sending text e-mails, they're wanting to attach more," she said. "They're wanting to do more fun things with the computer to keep in touch with people."
Barnes said as technology advances, older people always will be apprehensive about newer things. She said many students worry about breaking the computer, but she eases their concerns with wit.
"I do tell them that the only way they can break it is if they take some heavy blunt object to it and start pounding it, or if they throw it out of a window," she said.
Technology can be a passing trend, but class members said face-to-face contact will never go out of style. While they can find or do anything online, many seniors take the class for the camaraderie.
"It's too easy to retreat into your own little world," Adriance said. "I think you need social interaction."
Copyright 2018 The Lawrence Journal-World. All rights reserved. This material may not be published, broadcast, rewritten or redistributed. We strive to uphold our values for every story published.