Photo Gallery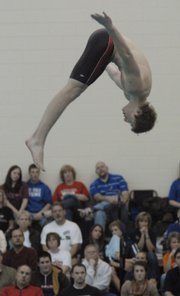 Sunflower League Swim Meet
Olathe — In their four years of swimming at Lawrence High, Alex Boyer and Zach Henderson never had been part of a team that finished ahead of cross-town rival Free State High at any boys swim meet.
That streak ended Saturday at the Sunflower League swimming and diving championships at Chisholm Trail Junior High.
Propelled by Boyer and Henderson, LHS finished eighth overall with a team score of 69, while Free State finished one place behind with a team total of 44.
"It's a huge sense of accomplishment," Boyer said. "I've been here for four years, and for four years we've been racing Free State just about every other meet, and I've never come away with that feeling of, 'Yes! We beat Free State!'"
In the championship heat of the 100 freestyle, Boyer improved his spot on the podium with a time of 50.24 - bumping him up to fourth place after qualifying as the fifth seed.
Henderson and Boyer didn't lose a spot in their consolation heats, as both LHS swimmers held on to seventh place. Boyer finished at 1:53.50 in the 200 freestyle, and Henderson clocked a time of 57.21 in the 100 butterfly.
LHS also was aided by divers Skyler Criswell and Matthias Reiber. After scoring a ninth-place seed in the prelims, Criswell came out strong in the finals to move up three spots and earn some hardware with a sixth-place finish. Reiber finished 10th out of the 12 divers that qualified for the finals.
"I saved my best two dives for last, and I nailed those, and it helped a lot," Criswell said. "It's great getting a medal. It's nice having that weight in your pocket."
Though the Lions as a team finished ahead of the Firebirds, it was FSHS that came away with the highest placing of any city swimmers.
Free State freshman Nolan Frank took second place in the 100 backstroke with a time of 57.22.
"He was really motivated, and you could see he was pretty excited on deck getting ready for it," FSHS coach Annette McDonald said. "We had a moment of stress there where he didn't quite hit the touch pad because he swam to the right side of the lane. So my fear was they would go by the time on the touch pad, but we made sure they looked at their back-up times and were very pleased that they recognized that he was actually second place."
Frank, who was positioned in the lane next to Henderson in the 100 backstroke, admitted to using Henderson's presence in the heat as motivation to improve on his third-place seeding.
"I was looking to defeat him because at the Lawrence High meet I was seeded first and was probably a little cocky going in and I went a second-and-a-half off my time so he beat me," Frank said of Henderson, who finished fifth in the championship heat. "Since then we've been in the same event but not the same heat so I finally got that chance to race him again."
Free State's only other individual swimmer, Tony Libeer, clocked in with an 11th-place time of 1:10.78 in the 100 yard breaststroke.
Copyright 2018 The Lawrence Journal-World. All rights reserved. This material may not be published, broadcast, rewritten or redistributed. We strive to uphold our values for every story published.