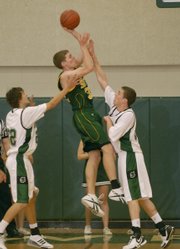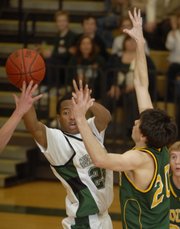 For 311â2 minutes, the Firebirds threw their best man-to-man defenders at him.
Senior Kris Wilson and junior defensive specialists Marcus Spates and Sean Brown all gave it a try.
It seemed Free State High's boys basketball team didn't have a solution for Shawnee Mission South sophomore guard Will Spradling, who had scored 22 points with athletic drives and pin-point pull-up jumpers.
So with a one-point lead and just seconds remaining, coach Chuck Law decided to gamble - the Firebirds went zone, Spradling missed a 14-foot jumper just before the buzzer, and FSHS hung on for a 53-52 home victory against the Raiders, previously unbeaten in conference play.
"(Going zone) was probably the ludicrous thing to do," Law said after the victory that put FSHS (10-4, 4-1 Sunflower League) at the top of the conference standings.
But there was a method to his madness.
"We knew if we stayed man he was going to figure out a way to get it to the basket or give it to another guy to score," Law said. "We rolled the dice."
As Spradling tried to penetrate the Free State zone with five seconds remaining, it was Brown who contested him, and he made the game's leading scorer adjust in mid-air.
"I think we actually forced him into one that was relatively difficult," Law said. "He was a little off-balance that time, and I think that's really what keyed it."
Wilson led the Firebirds with 15 points, and did so with clutch baskets. He buried a three at the buzzer in the first and third quarters, and scored on a hanging layup with a minute left that broke a 51-51 tie.
"I was just feeling it," Wilson said. "The buzzer-beaters, they just came along with the game."
As for the deciding bucket: "Very tough," Wilson said. "Just going to the basket and drawing contact and no call, but when I got up I saw that the ball went in. That's all I care about."
Those critical end-of-quarter shots, weren't too shabby either, but Law didn't take credit for the plays.
"My expertise at diagramming end-of-quarter plays is staggering," Law said sarcastically. "We don't run anything like what I talked about, but ultimately this game comes down to kids making plays and Kris is a play-maker."
Weston Wiebe also made plays for the Firebirds, scoring 11 and grabbing seven boards, and FSHS got another boost from sub Jake Miller, who scored 11 second-half points after missing his first four shots, all three-pointers. His first bucket came on a baseline jumper that cut the Raiders' lead to four in the third quarter.
"We told him to keep shooting," Law said. "His teammates kept encouraging him to shoot the ball because they have faith in him."
Count Wilson as a believer in Miller.
"He stepped up and knocked down some big shots," Wilson said. "We kept telling him to shoot the ball and that's what he did."
After two close losses, Law said the tough win against SMS (10-4, 4-1) was critical for his team.
"That was a big, big win for us based on my concern for my team's psyche after losing our last two games where it came down to the last possession," Law said.
Copyright 2018 The Lawrence Journal-World. All rights reserved. This material may not be published, broadcast, rewritten or redistributed. We strive to uphold our values for every story published.