Photo Gallery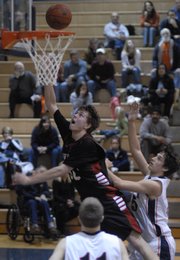 LHS boys vs. Olathe East
Olathe — It seemed like just another basket of many more to come for Lawrence High's boys basketball team Friday night.
A Preston Scheibler three-pointer with 49 seconds left in the first half against Olathe East extended the Lions' lead to six.
It turned out to be the last basket for a long time.
What began as a promising return to Sunflower League play ended in disappointing fashion for LHS, as the Lions went 11 minutes without a field goal - including the entire third quarter - in a 59-46 loss.
Lawrence demonstrated balanced scoring in the opening 16 minutes, nailing 11 field goals by six different players and taking a 28-24 lead into the break. But the Lions did next to nothing right from that point on, making the second half one to forget.
"It felt like it was forever before we scored again," said LHS point guard Dorian Green, who finished with 10 points, but - like most everybody else for the Lions - didn't make a field goal after halftime. "It felt like we scored two points in the whole second half."
It wasn't quite that bad, but for a while it was pretty close.
Green's three free throws in the third quarter were the only points scored by Lawrence in that quarter. When John Schneider finally ended the field-goal drought at the 5:27 mark of the fourth quarter, it put to bed a 22-4 Olathe East run.
LHS basically was put to bed by that point, as well.
Lawrence did make five shots in the fourth quarter, but none of them helped cut the lead below double digits.
Schneider finished with a team-high 20 points and 10 rebounds. Lions coach Chris Davis noted nobody was there to help Schneider out, though. Without Schneider, LHS actually would have gone 16 minutes - or a full half - without a field goal. For the game, Lawrence shot 16-of-44.
"We've got to get some of our other guys, Bobby (Davis), Lance (Kilburn), Preston to start coming through a little bit more," Chris Davis said. "They want to. It's just a matter of getting it done now. That's where our focus is going to be the next few days."
Schneider said he most was bothered by the way LHS (6-8, 1-5) tensed up when the Hawks put pressure on the Lions.
"When we miss a couple shots, it seems like we always just panic," Schneider said. "When we're down by six, we panic, but that's no panic situation. It's a two-possession game."
A two-possession game that, Friday night at least, got out of hand in a hurry.
Jacob Darby led Olathe East (8-6, 2-3) with 21 points. Justin Caresia added 12.
LHS will travel to Shawnee Mission East - the second of four consecutive league road games - at 7 p.m. Tuesday.
Copyright 2018 The Lawrence Journal-World. All rights reserved. This material may not be published, broadcast, rewritten or redistributed. We strive to uphold our values for every story published.